We have all the best brands for you such as Mackie, PreSonus, KRK, Vault, Kali Audio, Behringer and more!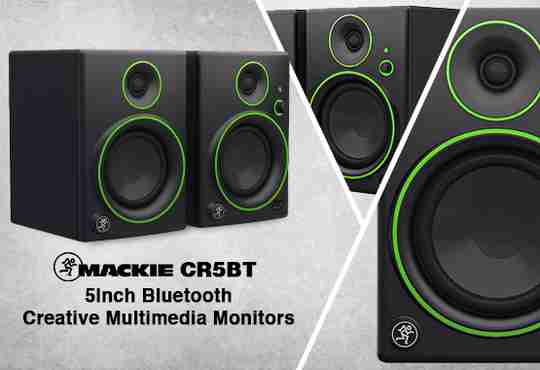 Mackie CR5BT 5inch Bluetooth Creative Multimedia Monitors 
CR monitors deliver a combination of high-quality components and professional build quality typically only found on more expensive studio monitors.
Features:
Frequency Response : 60 Hz to 20 kHz at -3 dB
Maximum SPL : 103 dB
Crossover Frequency : 3 kHz
Low Frequency Transducer : 5.0" / 127 mm polypropylene-coated woofer
High Frequency Transducer : 0.75" / 19 mm silk dome tweeter
Mackie MR Series 524 Powered Active Studio Monitor Speakers
Designed for superior mix translation and accuracy for professional results in any studio.
Features:
Equipped with Mackie's proven logarithmic waveguide design
1" silk dome tweeter provides fast transient response for detailed high end and vocal clarity
Optimize MR monitors for your mixing environment
Professional all-wood cabinet design built to last and look great in any studio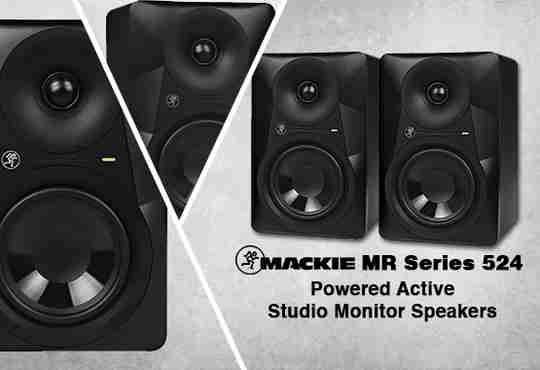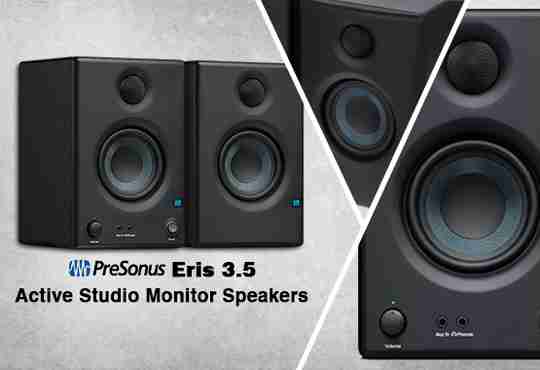 Presonus Eris 3.5 Active Studio Monitor Speakers
PreSonus Eris-series studio monitors are used worldwide by audio engineers who need to hear every detail of their recordings. 
Features:
Components and construction
3.5-inch (89 mm) Kevlar low-frequency transducer
1-inch (25 mm), ultra-low-mass, silk-dome, high-frequency transducer
Rear-firing acoustic port for superior bass-frequency reproduction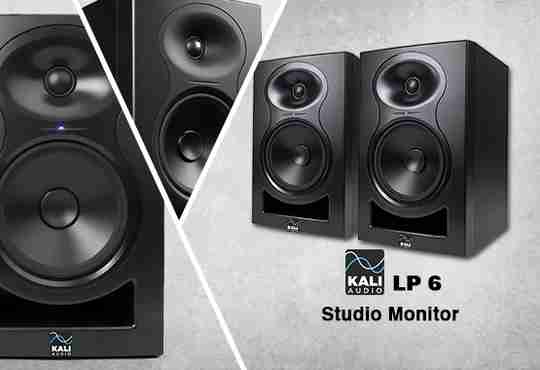 Kali Audio LP 6 Studio Monitor
The voice coil on the LP allows the speaker to have a very high excursion, resulting in a clearer sound with lower harmonic distortion, and exceptional dynamic range.
Features;
The LP has the clean, punchy bass of a front-ported speaker with very low noise from the port tube.
With 85 dB continuous output at 2 meters (roughly 6 feet,) and 20 dB of headroom, the LP is plenty loud for almost every 1 or 2 person listening space. This includes home studios, editing bays, and most control rooms.
Kali Audio LP 8 Active Near-Field Studio Monitor
This monitor is designed to deliver transparent sound for creators working across all genres and features Boundary EQ settings to optimize the speaker's response depending on where it is placed in your room.
Features:
Equipped with: 6.5" Woofer and 1" "Soft dome" tweeter
Power: 60W + 40 w (Lp 8)
Class D Amplifier
Frequency range: 39 - 25.000 Hz (-10 dB), 47 - 21.000 Hz (+/- 3 dB)
Peak SPL: 112 dB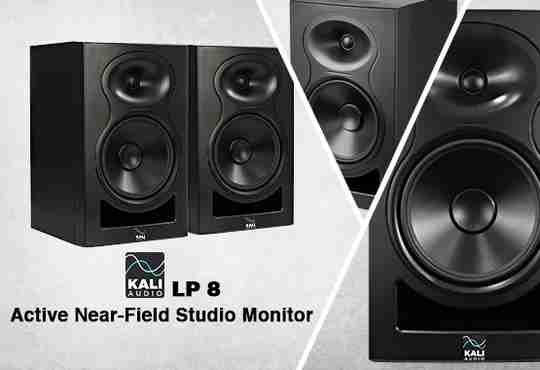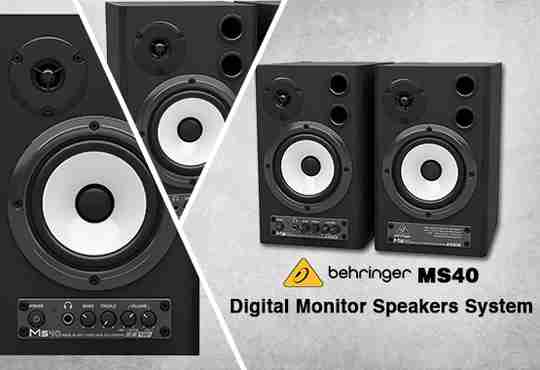 Behringer MS40 Digital Monitor Speakers System
This speaker is an ideal pick for keyboard monitoring and studio recordings as well as for creating a digital audio workstation in the comfort of your home.
Features:
Two-way active monitor systems for multimedia workstations and keyboard monitoring
High-power woofers and tweeters powered to provide a linear frequency response
Amplifiers: Built-in powerful 2x 20-Watt Amplifiers with Immense Headroom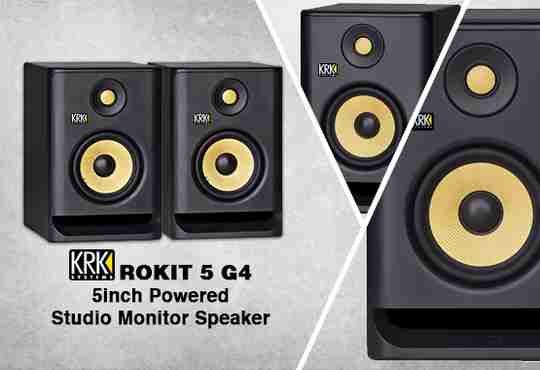 KRK ROKIT 5 G4 5inch Powered Studio Monitor Speaker

KRK's ROKIT studio monitors have been the most popular choice for accurate monitoring, while pioneering a new recording revolution. 
Features:
Professional grade studio monitors designed and engineered in the USA
Available in 5", 7", 8" (Bi-amp) and 10" (Tri-amp)
Matching Woofer and Tweeter made with Kevlar
25 visual Graphic EQ settings for different environments
KRK ROKIT 7 G4 7inch Powered Studio Monitor Speaker 
For over a quarter of a century KRK has been the professional's choice for mixing and mastering award-winning productions around the globe.
Features:
Proprietary speaker drivers built in-house from the ground up
Onboard LCD visual DSP-driven EQ
25 visual Graphic EQ settings for different environments
Scientifically designed high-quality/low resonance speaker enclosure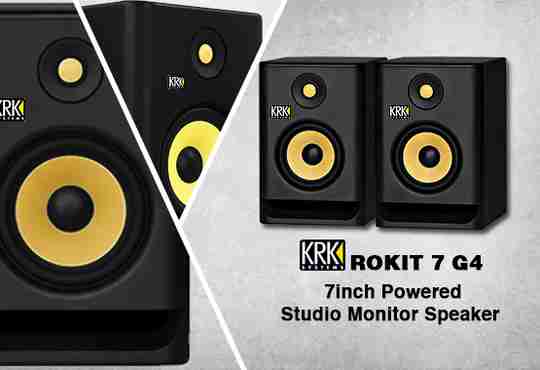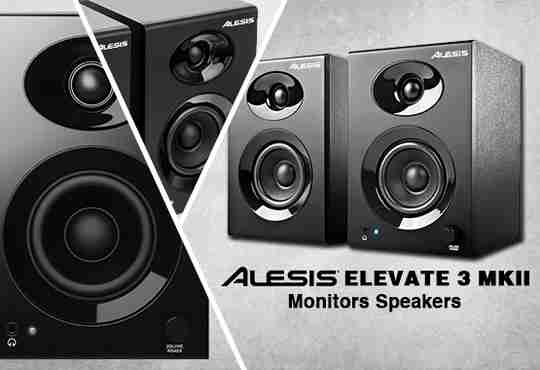 Alesis Elevate 3 MKII Monitors Speakers
Alesis Elevate 3 studio speakers deliver full-range sound with impressive clarity and warmth to all your mixes, masters and multimedia content.
Features:
Perfect for home studios, video-editing, gaming and mobile devices
Separate high- and low-frequency drivers with crossover
3-inch low-frequency driver in ported enclosure delivers rich, tight bass
1-inch silk dome tweeter provides smooth, clear highs
Alesis ELEVATE 5 MKII 5 inch Powered Studio Monitors

Elevate 5 speakers bring out every detail of your sound, unencumbered and crystal clear. Their custom wooden cabinets have a dense construction that provides natural bass.
Features:
Separate high- and low-frequency drivers with crossover
5-inch low-frequency driver in ported enclosure delivers rich, tight bass
1-inch silk dome tweeter provides smooth, clear highs
40W per channel output power; 80W total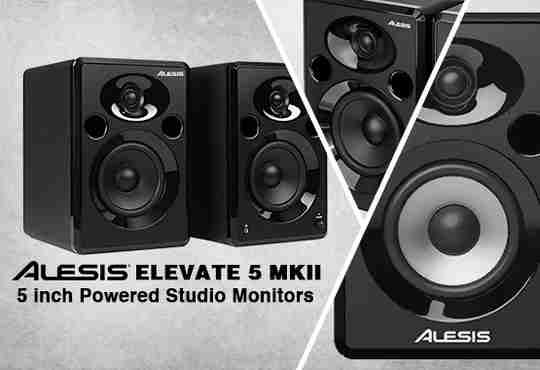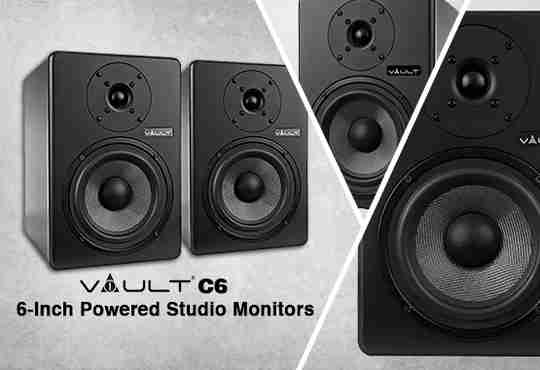 Vault C6 6-Inch Powered Studio Monitors

The Vault Monitors are designed and tested by audio engineers to meet your needs in a studio monitoring environment.
Features:
Low-frequency drivers are made out of Kevlar which allows the speaker drivers to perform under pressure
silk dome tweeters take care of reproducing high and upper-mid frequencies (treble) for the monitors
The rear panel houses an acoustic room switch which allows you to tune your speakers to your room
Vault C5 Powered Studio Monitors

Vault Monitors deliver a wide-range frequency response and uses a unique crossover technology.
Features:
Kevlar gives you that tight sound you seek in studio monitors.
Silk dome tweeters giving you crisp and clear high-frequency sound
Flip the switch to -4db and enjoy good quality sound minus the extra room resonance