Electric Guitar Buying Guide- How to Choose the Perfect One
Introduction
The world of music is a vast and diverse landscape, and at the heart of many iconic melodies and rock anthems lies the electric guitar. With its
electrifying sound and limitless creative possibilities, the electric guitar has captured the hearts of musicians and enthusiasts around the globe. In this section, we'll delve into the fascinating realm of electric guitars, exploring their significance, how to choose the perfect one, and the essential factors to ponder before making that important purchase.
Overview of Electric Guitars
Electric guitars are the rock stars of the musical instrument world. Unlike their acoustic counterparts, electric guitars use pickups and amplification to produce a distinctive sound that can range from soulful blues to blistering rock solos. The invention of the first commercially successful electric guitar in the 1930s marked a pivotal moment in music history, opening up new avenues for sonic exploration.
These guitars typically feature a solid or semi-hollow body, which can vary in shape and design, giving each instrument its own unique character. The electric guitar's strings are connected to magnetic pickups that convert string vibrations into electrical signals. These signals are then sent to an amplifier, where they can be shaped and sculpted to create a wide range of tones.
Importance of Choosing the Right Electric Guitar
Selecting an electric guitar isn't just about finding an instrument to play; it's about finding a musical partner that resonates with your style, personality, and creative vision. The right electric guitar can be a source of inspiration, pushing you to explore new sounds and techniques. It becomes an extension of your musical identity, amplifying your emotions and expressions through its strings.
FACTORS TO CONSIDE BEFORE MAKING A PURCHASE
Choosing the perfect electric guitar requires careful consideration of several factors. Here's a rundown of what to keep in mind before taking the plunge:
Playing Style
Your playing style heavily influences the type of electric guitar you should opt for. Are you drawn to the bluesy wail of a Stratocaster or the aggressive punch of a Les Paul? Different guitar models cater to different genres and techniques.
Body Type and Wood:
Electric guitars come in various body shapes, from the iconic Stratocaster and Telecaster designs to more unique styles. The type of wood used for the body can affect the guitar's resonance and tonal characteristics.
Pickups and Electronics
Pickups play a crucial role in shaping your guitar's sound. Single-coil pickups offer a bright, crisp tone, while humbuckers provide a warmer and fuller sound. Consider the pickup configuration and the range of tones they can produce.
Neck Profile and Scale Length:
The feel of the neck in your hand matters. Different guitars have varying neck profiles, and the scale length can affect string tension and playability.
Budget:
Your budget is a practical consideration. Electric guitars come in a wide price range, and while premium models may offer advanced features and craftsmanship, there are also excellent budget-friendly options.
Brand and Reputation:
Established brands often have a history of producing reliable instruments. Research the reputation and customer reviews of the brands you're considering.
Feel and Playability:
Go to a music store and play the guitar before you buy it. The feel and playability are subjective factors that can greatly influence your comfort and connection with the instrument.
Aesthetics:
Let's not forget the visual appeal. Choose a guitar that resonates with your personal style and aesthetics. After all, part of the magic lies in how the guitar makes you feel when you hold it
In conclusion, the electric guitar is a dynamic and captivating instrument that offers a world of sonic exploration. Choosing the right one involves understanding your preferences, playing style, and the technical aspects that define each instrument. By carefully considering these factors, you'll be well on your way to finding the electric guitar that not only feels like an extension of yourself but also empowers you to create music that resonates deeply with you and your audience.
TYPES OF ELECTRIC GUITARS
Electric guitars come in various types, each designed to cater to specific playing styles, tonal preferences, and musical genres. Understanding the different types of electric guitars can help you choose the one that best suits your musical needs. In this guide, we'll explore the most common types of electric guitars and their unique characteristics.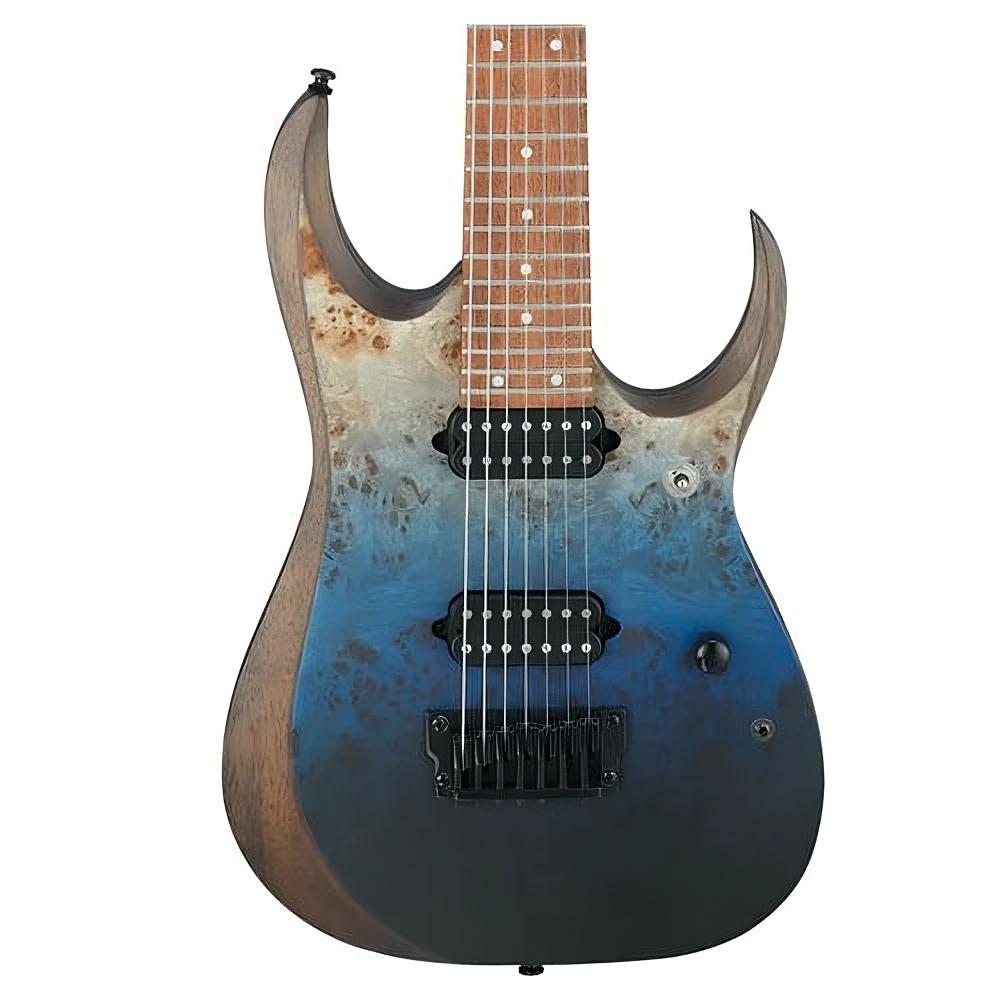 Solid Body Guitars
Solid body electric guitars are the most prevalent type and are favored for their versatility and durability. These guitars have a solid wooden body, typically made from materials like alder, mahogany, or maple. The lack of resonant chambers in the body contributes to reduced feedback and better sustain, making them suitable for high-gain genres.
Common characteristics include:
Broad range of tonal possibilities due to various pickup configurations.

Suitable for genres like rock, pop, blues, and metal.

Iconic models include the Fender Stratocaster and Gibson Les Paul.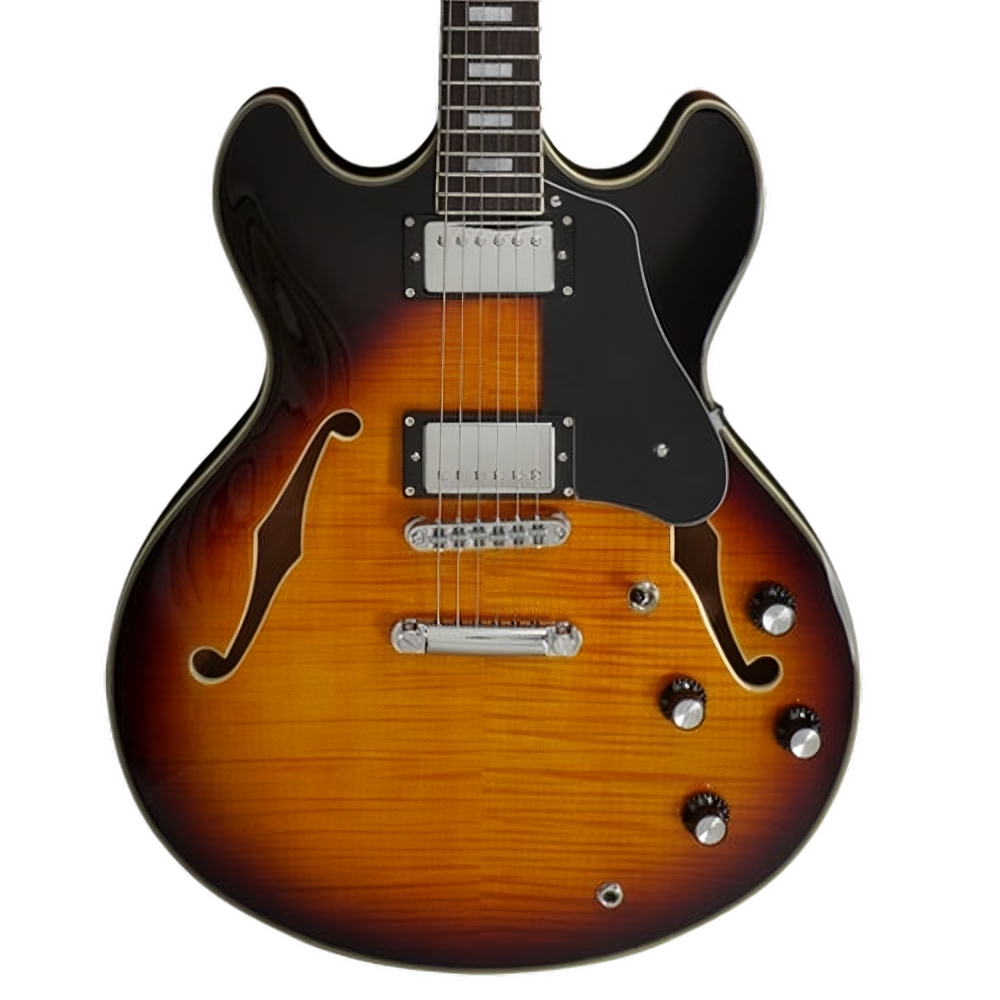 Semi-Hollow Body Guitars
Semi-hollow body guitars combine elements of solid body and hollow body designs. They feature a solid center block to reduce feedback while having hollow wings or f-holes for enhanced resonance. These guitars offer a warm, balanced tone and are popular in jazz, blues, and rockabilly genres.
Key features include:
Rich, resonant sound with some acoustic qualities.

Reduced susceptibility to feedback compared to fully hollow guitars.

Ideal for players seeking a versatile instrument for both clean and distorted tones.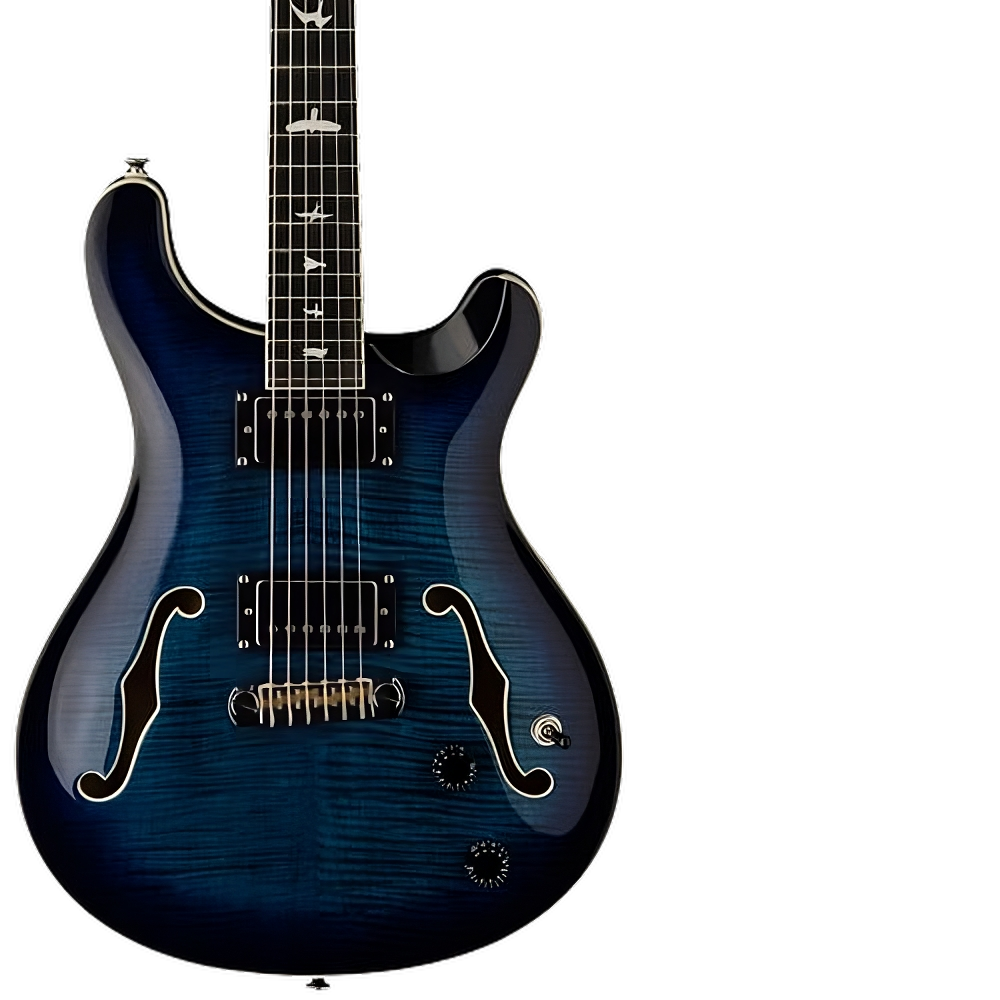 Hollow Body Guitars
Hollow body guitars have a fully hollow construction, creating a full and vibrant tone with pronounced acoustic qualities. They are favored in jazz and blues genres for their warm and woody sound. However, they can be prone to feedback at high volumes.
Key characteristics include:
Rich, organic tones with excellent sustain.

Well-suited for clean, jazzy, and bluesy playing styles.

Larger body size compared to solid body and semi-hollow body guitars.
Extended Range Guitars (7, 8, 9 String Guitars)
Extended range guitars, often referred to as multi-string guitars, are instruments that feature more strings than the traditional 6-string guitar. The most common types are 7-string, 8-string, and 9-string guitars. These guitars are designed to provide players with a broader tonal range and increased versatility for playing various styles of music.
Key characteristics include:
Additional Strings: More strings than traditional guitars.

Extended Range: Covers lower pitches for deeper tones.

Versatility: Applicable in various genres beyond metal.

Chord Complexity: Enables intricate chord voicings.

Tuning Options: Accommodates different tunings.

Extended Techniques: Allows for innovative playing styles.

String Tension: Requires specific setups and gauges.
In conclusion, the world of electric guitars offers a diverse array of options to suit different musical preferences and playing styles. Whether you're drawn to the versatile solid body, the resonant semi-hollow, the warm hollow body, the extended range options, the unique tones of baritone guitars, or the portability of travel and mini guitars, there's a type of electric guitar that can help you express yourself and create the music you love.
COMPONENTS & FEATURES OF ELECTRIC GUITARS:
Components and Features of Electric Guitars:
When buying an electric guitar, it's important to understand its various components and features to make an informed choice. Here's a breakdown of what you need to know:
Pickups:
Pickups are responsible for converting the vibrations of your guitar strings into electrical signals that can be amplified. There are two main types:
Single-coil vs. Humbucker pickups:
Single-coil pickups have a bright and twangy sound, but they can pick up interference.

Humbucker pickups produce a warmer and thicker sound while minimizing unwanted noise.
Sound differences and applications:
Single-coil pickups are great for pop, country, and blues due to their clear and crisp sound.

Humbuckers are better suited for rock, metal, and jazz, offering a powerful and smooth tone.
Neck :
The neck and fretboard affect how the guitar feels and sounds:
Fretboard
some common types of fretboard materials used in electric guitars, along with their characteristics:
Choosing a fretboard material is a personal preference that can affect how the guitar feels and sounds. Keep in mind that the impact of the fretboard material on the overall tone of an electric guitar is generally subtle compared to other factors like pickups and amplifier settings. It's essential to consider your playing style, desired tone, and aesthetic preferences when selecting the right fretboard material for your electric guitar
Rosewood:
Tone: Warm and smooth, with a rounded attack.
Feel: Comfortable and natural; often preferred by players who enjoy a softer touch.
Appearance: Dark brown to black with attractive grain patterns.
Maple:
Tone: Bright and snappy, with clear note definition and a pronounced attack.
Feel: Smooth but can feel slightly slick due to its lack of pores.
Appearance: Light-colored with visible grain, often finished for protection.
Ebony:
Tone: Bright and articulate, similar to maple but denser.
Feel: Extremely smooth, great for fast playing styles.
Appearance: Dark black with tight and consistent grain patterns.
Pau Ferro:
Tone: Balanced with warm midrange and clear highs.
Feel: Smooth and comfortable, reminiscent of rosewood.
Appearance: Varies in color, often reddish-brown with distinctive grain.
Baked Maple:
Tone: Similar to regular maple but slightly darker due to heat treatment.
Feel: Smooth and comfortable, offering a familiar playability.
Appearance: Lighter color with subtle golden-brown hues.
Synthetic Materials (e.g., Richlite, Phenolic):
Tone: Can vary but often offers a consistent and balanced tone.
Feel: Smooth and uniform, minimal variations across the fretboard.
Appearance: Can mimic traditional wood looks, but with more uniformity.
Controls and Electronics:
When delving into the world of electric guitars, comprehending the instrument's controls and electronics is crucial.
Let's break it down:
Explaining Volume and Tone Knobs: These knobs play a pivotal role in shaping your guitar's sound:
Volume Knobs: These regulate the output level of your pickups, determining how loud your guitar sounds through your amplifier or other equipment.
Tone Knobs: These offer control over the tonal characteristics of your guitar. By adjusting the tone knob, you can make your sound warmer or brighter
Coil Splitting: This nifty feature is often found on guitars equipped with humbuckers. It allows you to transform a humbucker pickup into a single-coil pickup. This versatility expands your sonic possibilities, as you can toggle between the thicker humbucker sound and the clearer, twangy single-coil sound.
Phase Switching: Here's where things get intriguing. By altering the phase of one of your pickups, you can achieve distinctive and unique tonal textures. This is often referred to as creating "out-of-phase" sounds, adding depth and character to your playing.
Remember, considering these components and features will help you find an electric guitar that suits your style and preferences.
Crafting your ideal sound and tone is a captivating journey in the realm of electric guitars. Let's dive into the factors that influence this art:
Wood and Tone:
The wood used in your guitar's construction profoundly shapes its sound. Here's a breakdown:
How Different Woods Affect Sound:
Mahogany: Known for warmth and richness, mahogany yields a thick and sustainful tone.

Alder: Offers balanced resonance with a bright and clear sound, making it versatile.

Ash: Provides a bright, snappy, and resonant tone with good sustain.

Maple: Emphasizes clarity and brightness, often used for a pronounced attack.

Rosewood: Adds warmth and depth to the tone, favored for its smooth character.
Matching Wood Choices with Musical Genres:
Mahogany: Suited for blues, classic rock, and jazz due to its warm character.

Alder: Versatile and well-matched for various genres, from rock to funk.

Ash: Great for country, blues, and rock genres that require brightness.

Maple: Often chosen for genres demanding clear note definition like rock and metal.

Rosewood: Complements styles where warmth is desired, such as jazz and blues.
Amps and Effects:
Your amplifier and effects pedals are integral to your sonic journey. Here's what to consider:
Choosing the Right Amplifier for Your Guitar:
Wattage: Consider where you'll play. Lower wattage for home, higher for gigs.

Tubes vs. Solid State: Tubes offer warmth; solid state is more reliable and versatile.

Combo vs. Head and Cabinet: Combos are all-in-one; heads and cabs allow customization.
Basic Effects:
Overdrive: Adds a subtle crunch to your sound, ideal for blues and classic rock.

Distortion: Provides heavier distortion for rock and metal genres.

Reverb: Adds depth by simulating room acoustics.

Delay: Creates echo-like effects, adding dimension to solos.
Achieving Different Tones:
Mastering a variety of tones is essential for versatile playing:
Genre-Specific Tones:
Classic Rock: Dial in medium gain, warm tones with controlled distortion.

Blues: Opt for a smooth and warm sound, focusing on expressive techniques.

Metal: Crank up the gain for intense, saturated distortion with strong mids.

Jazz: Aim for clean and warm tones with a focus on clarity and note articulation.
Adjusting Settings for Tonal Versatility:
Pickups: Switch between pickups for varied tonal characteristics.

Amp EQ: Adjust bass, mid, and treble for tonal shaping.

Effects: Experiment with combinations to create unique textures.
In essence, your guitar's wood, amplifier, and effects work in harmony to sculpt your desired sound. By understanding these elements and their interactions, you embark on a journey to explore a diverse range of tones across musical genres.
When choosing an electric guitar, considering your playing style and comfort is paramount. Let's delve into how various factors impact your playing experience:
Body Shape and Ergonomics:
The shape of an electric guitar's body does more than contribute to its aesthetics; it profoundly influences your playing comfort. When considering body shape, keep the following points in mind:
How Body Shape Affects Playing Comfort: The shape of an electric guitar's body significantly influences how it feels against your body while playing. Rounded edges and contoured designs often enhance comfort, especially during extended sessions. For instance, the ergonomic contours of a stratocaster-style body provide a natural resting position for your arm, reducing fatigue during long playing sessions. Conversely, guitars with sharp angles might not be as accommodating for extended playing.
Finding the Right Fit for Your Body Type: Every player's physique is unique, so trying out guitars with different body shapes is crucial. Factors like height, arm length, and playing posture affect which body shape suits you best. Visiting local guitar stores allows you to gauge how different body shapes interact with your body, whether you're playing while standing or sitting.
Neck Profile and Playability:
The neck profile, or the shape of the guitar's neck, significantly affects how the instrument feels in your hands and how comfortable it is to play:
Matching Neck Profile to Playing Style: The neck profile determines the grip and feel of your hand as you navigate the fretboard. Different profiles cater to different playing techniques and styles. For instance: A) A slim "C" or "D" profile neck may be ideal for players who prefer fast lead playing and intricate solos. B) thicker "U" or "V" profile might suit player s who require a more substantial grip for chord-based playing or bending. Assess your playing style and the techniques you use most frequently to find a neck profile that facilitates ease and dexterity.

 

Trying Different Neck Profiles to Find Your Preference: To determine your preferred neck profile, it's essential to try guitars with different neck shapes. Visit guitar stores and spend time playing guitars with varying profiles to gauge your comfort level.

 
Remember that your comfort with a neck profile might evolve as you progress in your guitar journey. Be open to adjusting and adapting your preferences as your playing style develops.
Weight and Balance:
The weight and balance of your guitar are critical factors that affect your playing comfort and endurance:
Importance of Weight Distribution for Playing Comfort: A well-balanced guitar evenly distributes its weight, preventing strain on your neck, shoulders, and back. This balance enhances your playing experience, especially during extended practice sessions or performances. A guitar with an imbalanced weight distribution might cause discomfort or pain, impacting your ability to play comfortably for longer durations.
Longevity of Playing Sessions and Potential Discomfort:Consider the weight of the guitar, particularly if you anticipate standing for extended periods during performances. A heavy guitar might lead to fatigue, which can negatively impact your playing and overall enjoyment.Keep in mind that the weight that feels comfortable initially might become less so after playing for an extended time. It's wise to choose a guitar that aligns with your physical comfort and the type of playing you intend to do.
When venturing into the realm of electric guitars, understanding your budget and making informed choices is essential. Let's explore the various aspects of budget considerations:
Entry-Level
These guitars are ideal for beginners and those on a budget. They provide basic features and functionality to get you started on your musical journey.
Expect straightforward designs, basic tonal options, and materials that prioritize affordability. While they may lack some advanced features, entry-level guitars are perfect for beginners learning the ropes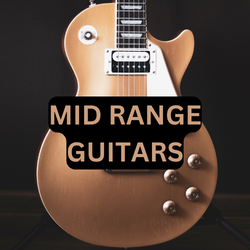 Mid- Range
Moving up the ladder, mid-range guitars offer improved build quality, better tonal characteristics, and often additional features. They strike a balance between affordability and performance.
In the mid-range category, you'll find more refined finishes, enhanced playability, and improved tonal versatility. These guitars often offer a significant step up in overall quality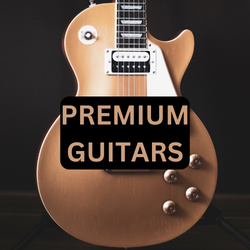 Premium
At the higher end, premium guitars showcase exceptional craftsmanship, top-tier materials, and advanced electronics. These guitars are designed for serious players and professionals who demand the utmost in quality and performance.
At the premium level, you'll encounter meticulous craftsmanship, top-grade tonewoods, advanced electronics, and impeccable attention to detail delivers exceptional sound and performance
Value for Money:
Balancing Features, Quality, and Price:
When evaluating the value of a guitar, consider how its features and quality align with the price you're paying. A higher price doesn't always guarantee a better instrument for your needs. Analyze the features you truly require for your playing style and avoid paying for unnecessary extras.
Avoiding Overpriced or Underperforming Options:
Overpriced Guitars: Research and compare similar models across brands to ensure you're not paying an inflated price for a guitar that offers the same features elsewhere.

Underperforming Guitars: Carefully assess reviews and user experiences to avoid guitars that may not meet your expectations despite their price. Sometimes, a more affordable option can provide satisfactory performance.
Remember that finding the right balance between your budget and your guitar's features and quality is crucial. Prioritize aspects that directly impact your playing experience and choose a guitar that meets your needs without breaking the bank. Ultimately, the goal is to invest in an instrument that inspires you to play and keeps you motivated on your musical journey.
TOP ELECTRIC GUITAR BRANDS TO CONSIDER
There are several reputable electric guitar brands that have consistently produced high-quality instruments. Here are some of the top electric guitar brands to consider
Consider your style, budget, and preferences when exploring these brands' diverse electric guitar offerings.
As you embark on your journey to find the perfect electric guitar, it's essential to reflect on the valuable insights gained throughout this guide. Let's wrap up by recapping the key points, offering encouragement, and celebrating the joy of playing and learning the electric guitar:
Recap of Key Points in the Guide:
Components and Features: Understanding pickups, neck profiles, bridge types, and controls.

Sound and Tone: Exploring the impact of wood, amps, effects, and achieving different tones.

Playing Style and Comfort: Evaluating body shape, neck profile, and weight for optimal comfort.

Budget Considerations: Balancing features, quality, and price for the best value.

 
Encouragement to Choose the Guitar That Suits Your Style:
Your choice of electric guitar is an expression of your unique style and musical journey. Embrace the journey with excitement and the understanding that the right guitar enhances your playing experience, creativity, and musical growth.
Final Thoughts on the Joy of Playing and Learning the Electric Guitar:
Beyond the technical aspects of selecting and maintaining an electric guitar lies the pure joy of playing and learning. The electric guitar is a conduit for your musical voice, emotions, and creativity. It's a lifelong journey that brings immense satisfaction, personal growth, and the chance to connect with others through music.
In the end, whether you're a beginner embarking on your musical path or a seasoned player seeking new sonic horizons, remember that your electric guitar is more than just an instrument; it's a gateway to a world of melodies, emotions, and self-expression. Cherish the moments of learning, experimenting, and performing, and let the electric guitar be your faithful companion on this exhilarating musical adventure.