ARTESIA by Virgin Musical Instruments
To Make Music Simple
Claiming the top spot on our list, we are happy to announce the grand launch of Artesia digital Pianos in India. Artesia is the large and most famous manufacturer of almost everything a musician would need, and which also suits your aspiration, lifestyle and budget. Artesia is dedicated to helping you experiment with new ideas, new sound, and new ways of creating music.
Artesia gives you a great combination of portability and attractiveness for its price. The quality of sound and realism of the key action on Artesia pianos is noteworthy. Artesia is designed in the USA and their pianos are said to be an alternative to an acoustic model, and they are more realistic and truer to the pianos which have been around for hundreds of years.
2 YEAR STANDARD WARRANTY ON ARTESIA
PE-88 is a complete package of portability, style and technology in one sophisticated package. 
PE-88 is combined and designed with many features, to offer you a lot of creativity and contemporary lightweight cabinet, for any level. Features also include lightweight, expressive instrument voices, professional accompaniment tracks and delivers a powerful sound.
Featuring
·        Sleek and lightweight cabinet
·        3 different velocity touch settings
·        3 layer Supra Sound sample gives a beautiful depth and expression
·        Connectivity to all your USB devices including Smartphones, Tablets and Laptops
·        You can also run PE-88 on batteries when you are on the road
·        Plug n Play to all major D.A.Ws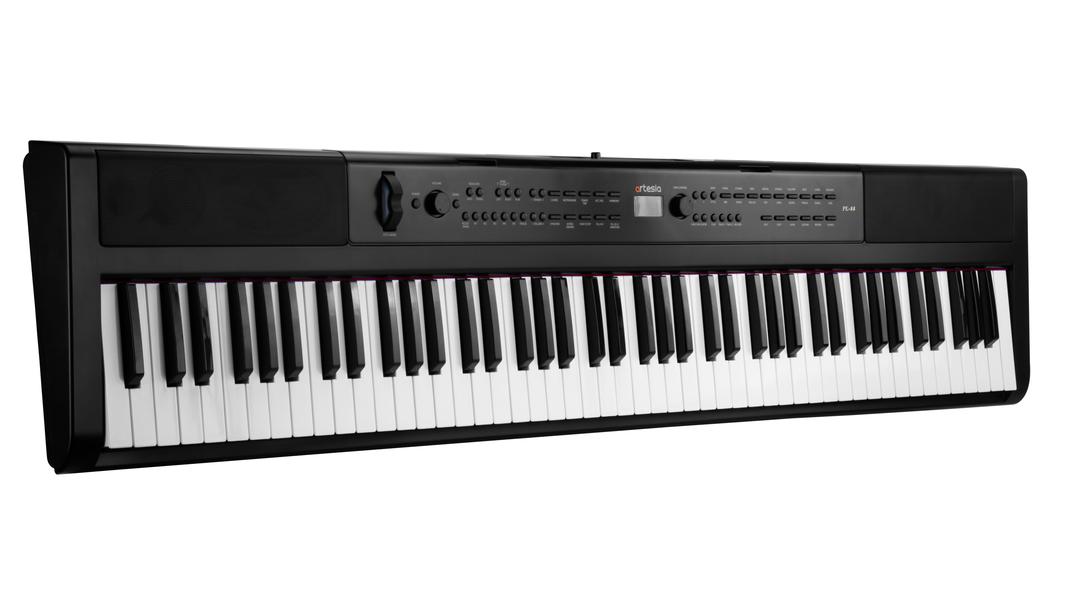 Artesia DP-2 can never go out of date. DP-2 comes with many connections and interface possibilities. DP-2 has a USB host and MIDI port which allows it to be connected to any laptop, tablet and even smartphones. Also offers amazing options like multi-track recording, piano lessons with teaching apps and much more to explore.
DP-2 is beautifully crafted with dark rosewood finish which will complement any room décor. Velocity-sensitive and weighted keys with hammered action give you the feel of an acoustic piano for real. Loaded with five different velocity touch settings to please every style of practice or performance. The DP-2 offers 3-layer sampling with its acoustic Supra Sound instrument sample processing to give you the deep sound and the right essence of the note played.
DP 150Ce is a complete package of portability and technology with style. A grand piano experience at a fraction of size.
The symphonic sound of DP 150 will give you years of musical joy and memories. It comes loaded with hundreds of pre-recorded songs that you can playback for your listening pleasure or play along with it and learn. While other entry-level pianos are quickly outgrown, ARTESIA DP 150 satisfies players with its dynamic feel and responsive sounds.
Featuring
·   Ebony glass finish
·   Traditional Style Digital Piano Cabinet
·   Compose and store all your practices and performances on the included 4G USB Thumb Drive
·  Includes iPad compatible features that allow interaction with the exciting iPad teaching apps
·  Choose from 137 instrument voices including 3D Stereo Grand Piano
_______________________________________________________________
ARTESIA M200 STUDIO MONITOR
Don't go by their sizes, M200 is built to deliver high-fidelity sound in a compact package. Offers you professional-quality sound which is needed to enable more accurate mixing and sound environment.
Artesia M200 easily integrate with any system configuration as it comes with multiple connection options for mixers, interfaces, media players and more. With this selection, you'll have no problem hooking your speakers up with virtually any line-level source, including your smartphone or tablet.
This is an ideal audio solution with minimal investment for any small space, home, studio or entertainment centre.
Featuring
·                TI's Class D Stereo Amplifier
·                HF driver - 0.75-inch silk dome tweeter
·                LF driver - 4-inch Woofer
·                75Hz-20kHZ crossover point
·                30W x 2 maximum output power
·                Power LED on the front panel
Artesia PE 88 Key Deluxe Digital Piano with ST2 Stand - Black
Artesia M200 30W Class D Professional Studio Monitor Speaker - Pair
Artesia DP2 Traditional Console 88 Key Digital Piano - Dark Rosewood Matte