Guitar Maintenance Care & Tips | A Comprehensive Guide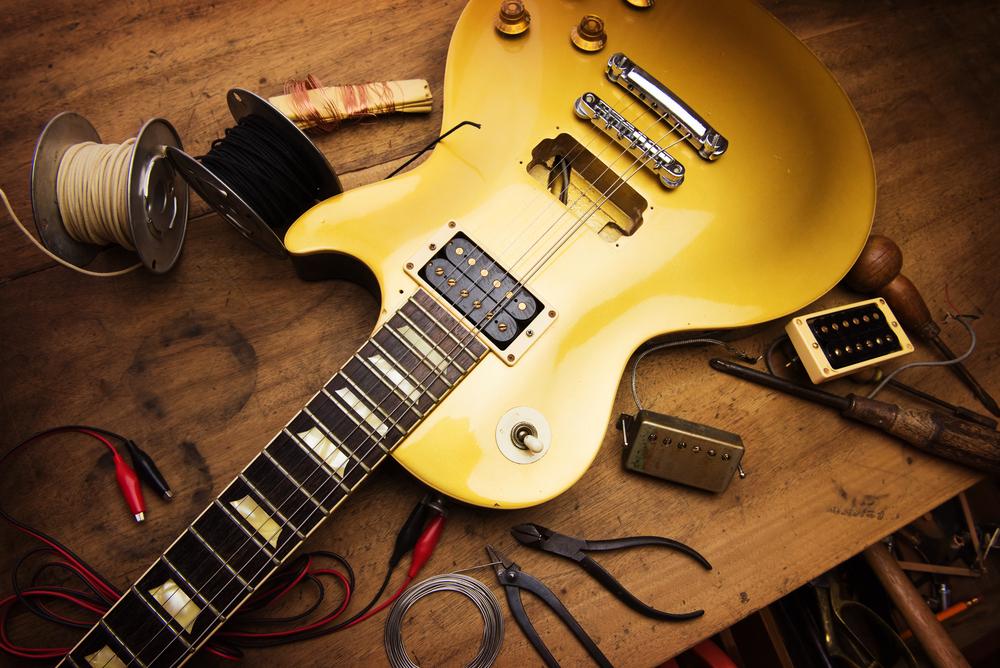 Importance of Regular Guitar Maintenance
Maintaining your guitar is a crucial aspect of being a responsible and dedicated guitarist. Just like any other instrument, guitars require regular care to ensure they function at their best. Regular maintenance not only prolongs the life of your guitar but also contributes to the quality of sound it produces. Neglecting proper care can lead to issues such as warped necks, rusty strings, and diminished playability.
Regular guitar maintenance involves a combination of cleaning, adjustments, and occasional repairs. By investing time and effort into the upkeep of your instrument, you not only preserve its aesthetic appeal but also enhance its overall performance. In this blog, we will delve into the significance of different aspects of guitar maintenance and provide practical tips to keep your guitar in top condition.
Overview
The purpose of this blog is to guide guitarists, whether beginners or seasoned players, on the importance of regular maintenance and how to go about it effectively. We will cover a range of topics, from basic cleaning routines to more advanced adjustments, ensuring that readers have a comprehensive understanding of how to care for their guitars.
Whether you own an acoustic or electric guitar, each type requires specific attention to detail. We'll explore the common issues that may arise and equip you with the knowledge and skills to address them. By the end of this blog, you should feel confident in maintaining your guitar, fostering a deeper connection with your instrument and ensuring that it continues to serve you well for years to come. Let's embark on this journey of preserving and optimizing the performance of your beloved guitar.
Essential Tools for Guitar Maintenance
To ensure effective guitar maintenance, it's essential to have the right tools at your disposal. These tools not only make the process more efficient but also help you address specific aspects of guitar care. Here, we'll introduce you to some basic tools that every guitarist should have in their maintenance kit.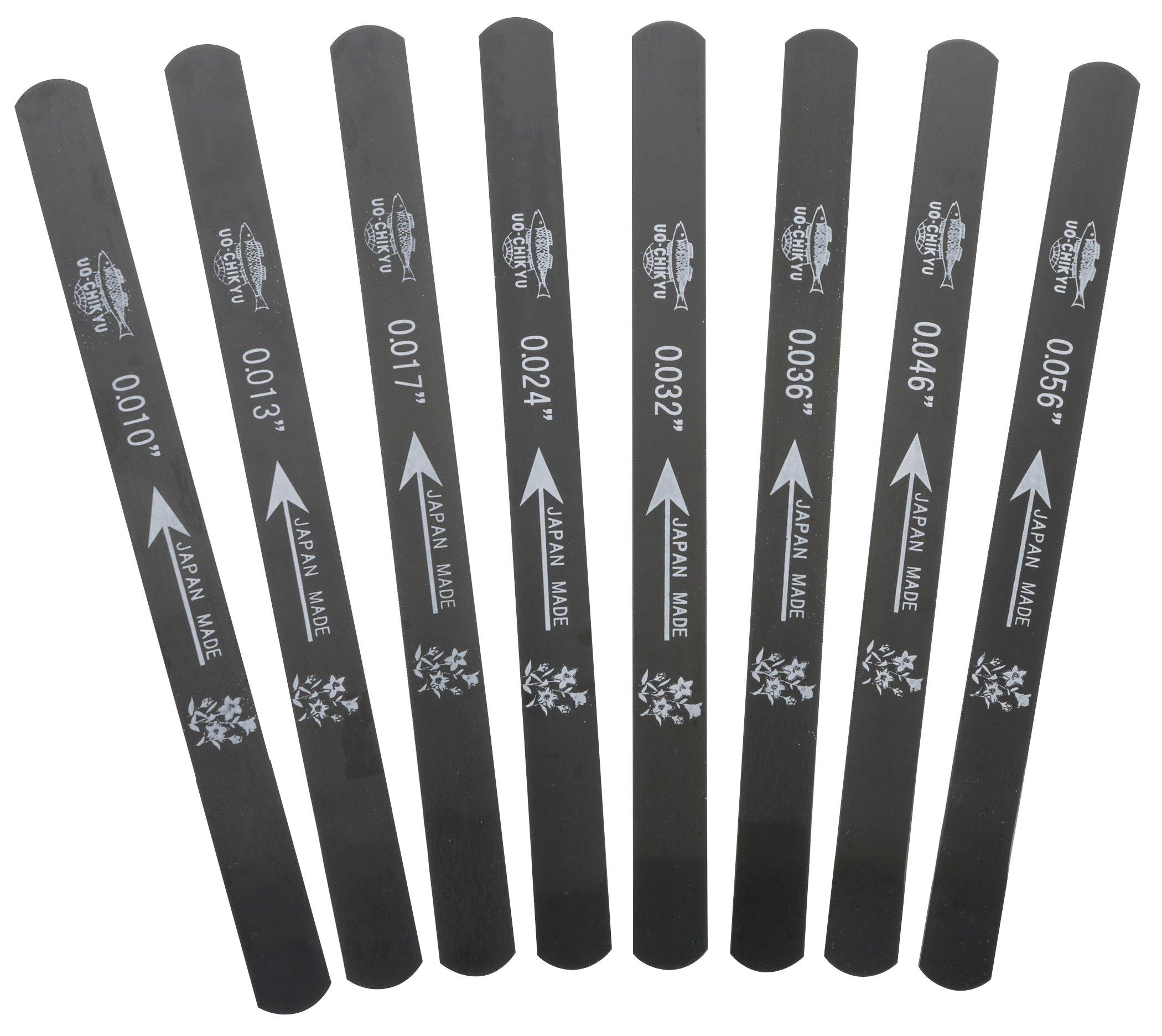 Nut files
Nut files are precision tools designed for filing and shaping the slots in the guitar nut. Properly sized nut slots are crucial for maintaining proper string height and spacing, which in turn affects playability and intonation. Using the correct nut file ensures a smooth and precise adjustment.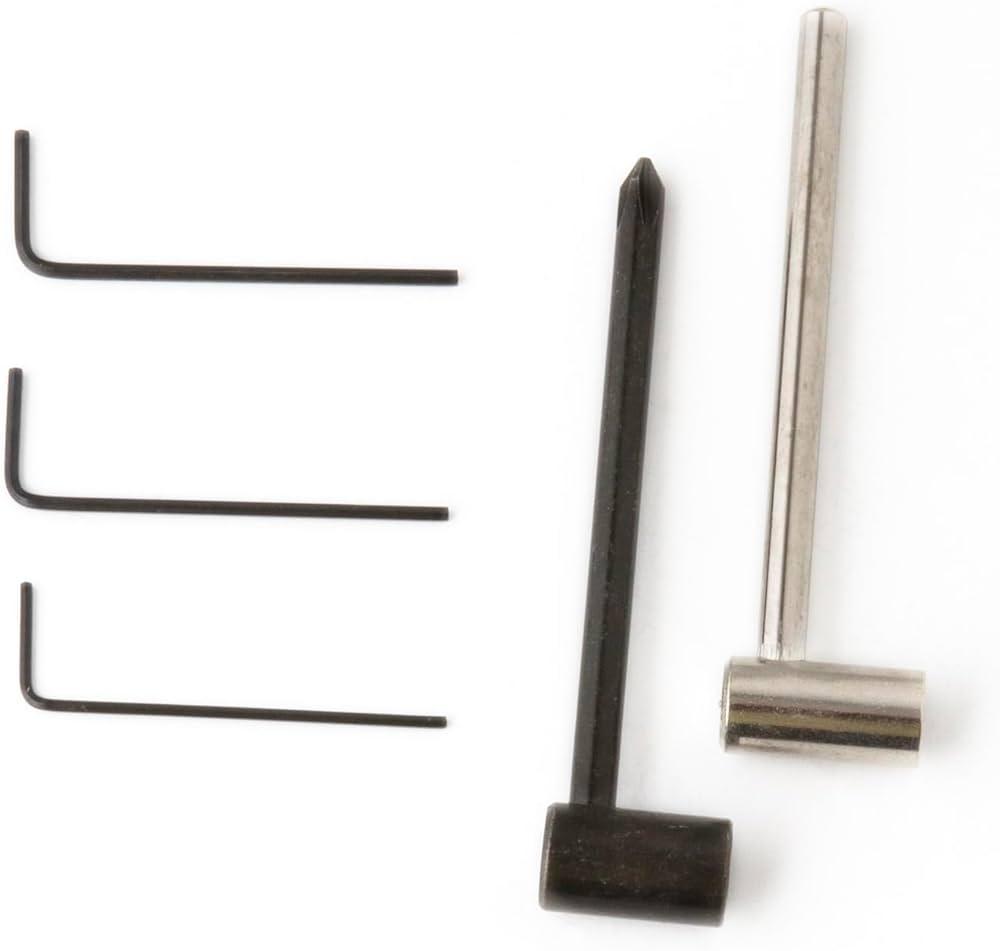 Truss Rod Wrench
The truss rod wrench is used to adjust the truss rod in the neck of your guitar. This tool is vital for controlling the neck's curvature, allowing you to correct issues such as bowing or backbow. Proper truss rod adjustment is key to maintaining optimal playability and preventing damage to the neck.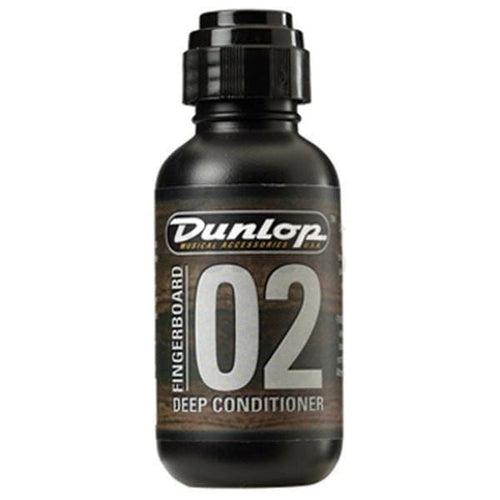 Fretboard Conditioner
Fretboard conditioner, often in the form of lemon oil or a specialized fretboard cleaner, is used to moisturize and clean the fretboard. This helps prevent it from drying out, which can lead to issues such as fret sprout. Conditioning the fretboard also enhances its appearance and prolongs the life of the wood.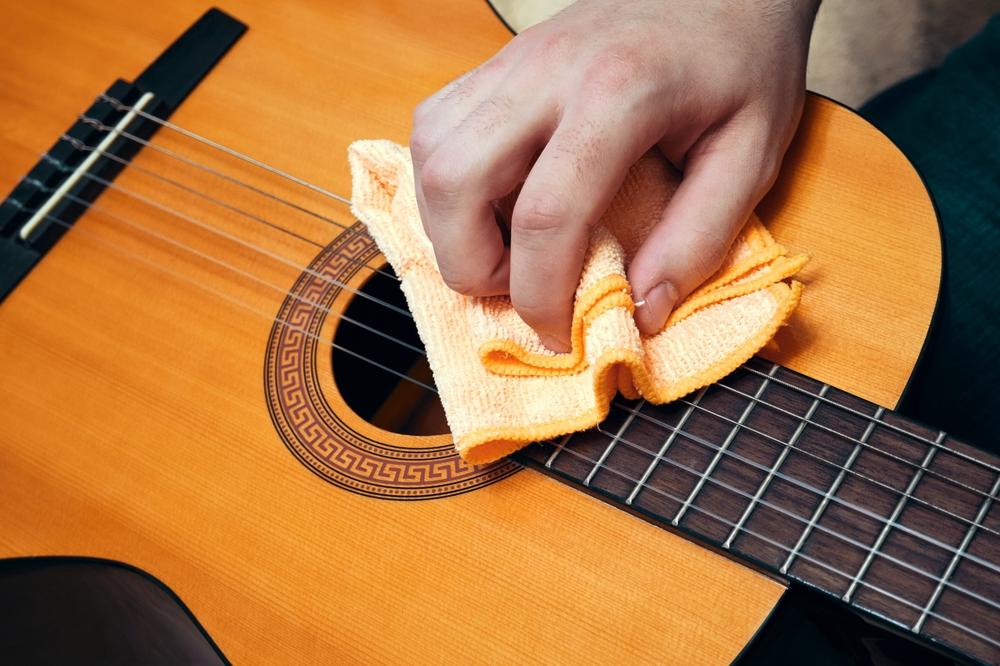 Step-by-Step Guide to Cleaning the Guitar
Removing Dust and Debris:




Begin by using a soft-bristled brush or a can of compressed air to gently remove any loose dust and debris from the surface of the guitar. Pay special attention to areas around the pickups, bridge, and other hardware.




Choosing the Right Polish:




Select a high-quality guitar polish suitable for your guitar's finish. Different finishes, such as gloss or satin, may require specific types of polish. Read the manufacturer's recommendations to ensure compatibility.




Polishing the Body and Hardware:




Apply a small amount of guitar polish to a clean, soft microfiber cloth. With gentle, circular motions, work the polish into the body of the guitar, covering all surfaces. Take care to avoid getting polish on the fretboard or any unfinished wood.

For hardware such as tuners, bridge, and knobs, dampen a cloth with polish and gently clean these components. Be cautious around electronic components and openings.



Importance of Maintaining a Clean Guitar
Keeping your guitar clean goes beyond aesthetics; it plays a crucial role in the instrument's longevity and performance. Here's why maintaining a clean guitar is essential:
Prevents Damage: Dust and debris can scratch the finish and accumulate in hard-to-reach places. Regular cleaning prevents potential damage to the body and hardware.

Preserves Finish: Guitar finishes, whether gloss or satin, can degrade over time if not properly maintained. Cleaning and polishing help preserve the finish, ensuring your guitar looks and feels new.

Enhances Playability: A clean guitar not only looks good but also plays better. Smooth, well-maintained surfaces contribute to comfortable playing and can extend the life of your strings.

Maintains Resale Value: If you ever decide to sell or trade your guitar, a well-maintained instrument with a clean appearance is likely to retain higher resale value.
Tips for Protecting the Finish
Use a Guitar Stand or Case: When not in use, store your guitar on a stand or in a case to protect it from dust and potential accidents.

Avoid Extreme Temperatures and Humidity: Extreme conditions can harm your guitar's finish. Avoid leaving it in direct sunlight or in excessively humid or dry environments.

Wipe Down After Playing: Get into the habit of wiping down your guitar with a dry microfiber cloth after each playing session to remove oils and sweat from your hands.

Regular Inspections: Periodically inspect your guitar for any signs of wear, such as finish cracks or hardware corrosion. Addressing issues promptly can prevent further damage.
By following these steps and incorporating regular cleaning into your guitar maintenance routine, you'll not only ensure that your instrument looks its best but also contribute to its overall health and performance.
How to Properly Change Guitar Strings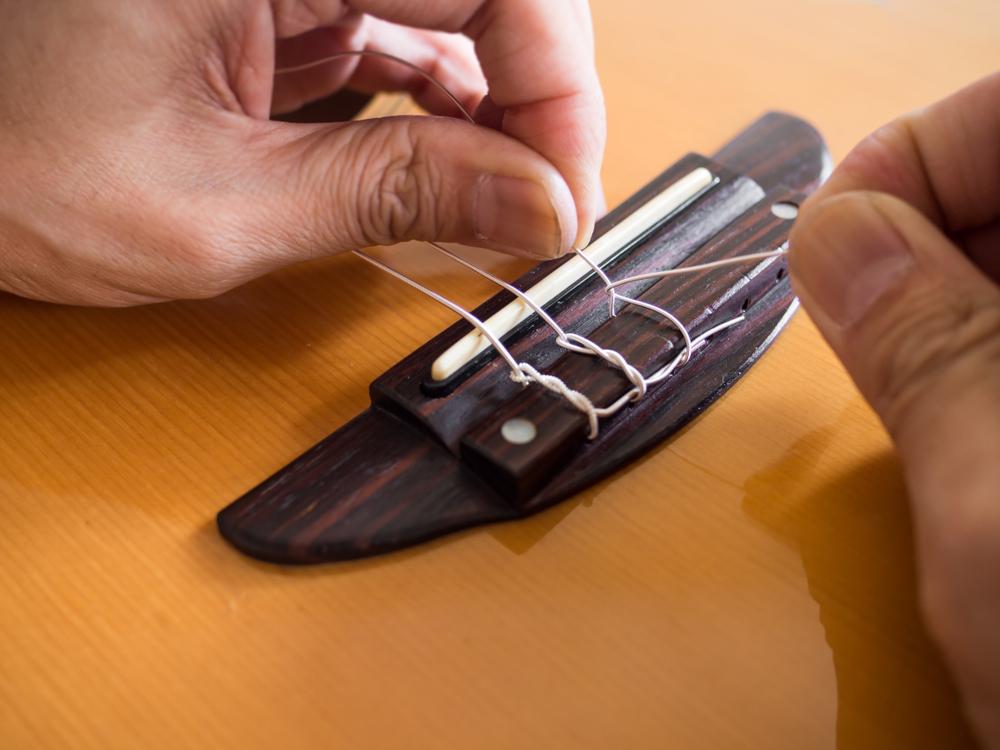 Loosening the Old Strings:




Use a string winder to loosen the tension of each old string. Start with the low E string and work your way to the high E. Once sufficiently loosened, cut the strings near the tuning pegs or bridge and remove them from the guitar.




Cleaning the Fretboard:




With the old strings removed, take the opportunity to clean the fretboard. Use a soft cloth or a small brush to remove any dirt or residue. If the fretboard is particularly dirty, you can use a fretboard conditioner to moisturize the wood.




Installing New Strings:




Unpack the new set of strings and attach the ball end of each string to the corresponding bridge or tailpiece. Thread the other end through the appropriate tuning peg, leaving a few inches of excess string. Use the string winder to tighten the strings gradually, ensuring they wind neatly onto the tuning pegs. Tune the guitar to pitch and stretch the strings to help them settle.
Tips for Extending String Life
Wash Your Hands: Clean your hands before playing to reduce the transfer of oils onto the strings.

Wipe Strings After Playing: Use a dry microfiber cloth to wipe down the strings after playing to remove sweat and oils.

String Lubrication: Consider using a string lubricant to reduce friction and extend string life
Understanding the Truss Rod's Role
The truss rod is a metal rod inside the guitar neck that counteracts the tension of the strings. Its primary role is to control the neck's curvature, ensuring proper playability and preventing issues like bowing or backbow.
Signs That the Truss Rod Needs Adjustment
Neck Bowing: If the neck has a noticeable upward or downward curvature.

Fret Buzz: When the strings make contact with the frets, producing an undesirable buzzing sound.
Step-by-Step Guide to Truss Rod Adjustment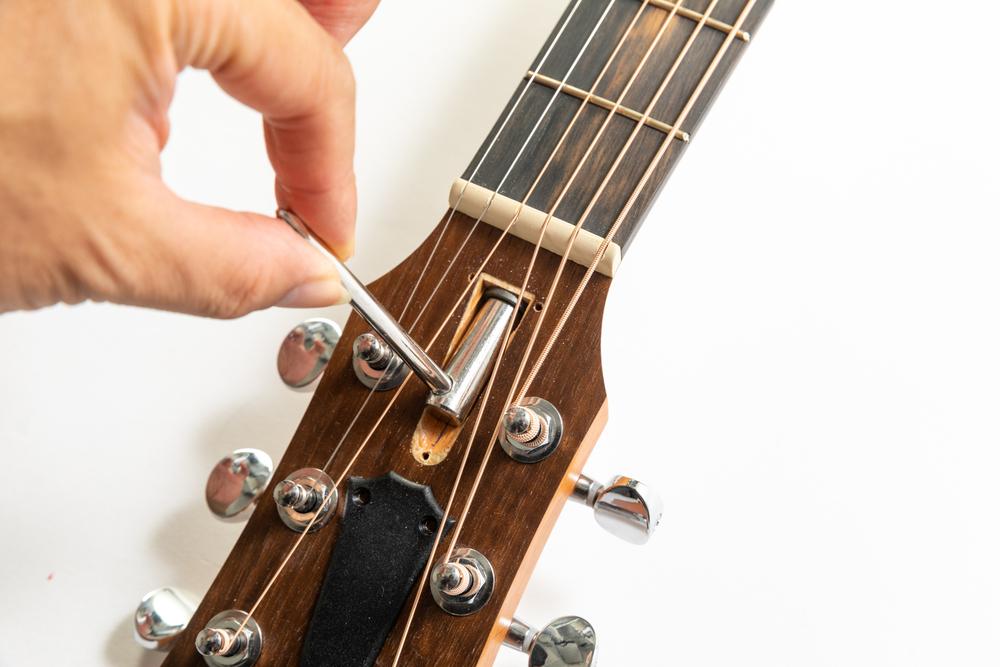 Assess the Neck: Check the neck's curvature by sighting down the edge of the fretboard.

Locate the Truss Rod Adjustment Nut: Usually located at the headstock or inside the soundhole, the truss rod adjustment nut can be tightened or loosened using an appropriate wrench.

Make Small Adjustments: Turn the truss rod nut in small increments (usually a quarter-turn at a time). Allow the neck to adjust before making additional changes.

Re-Tune and Test: After each adjustment, re-tune the guitar and play to assess the impact on playability. Repeat the process as needed.
Common Mistakes to Avoid
Over-Tightening: Avoid excessive tightening of the truss rod, as this can damage the neck or cause other issues.

Not Seeking Professional Help: If you're uncertain or uncomfortable adjusting the truss rod, it's advisable to seek assistance from a qualified guitar technician.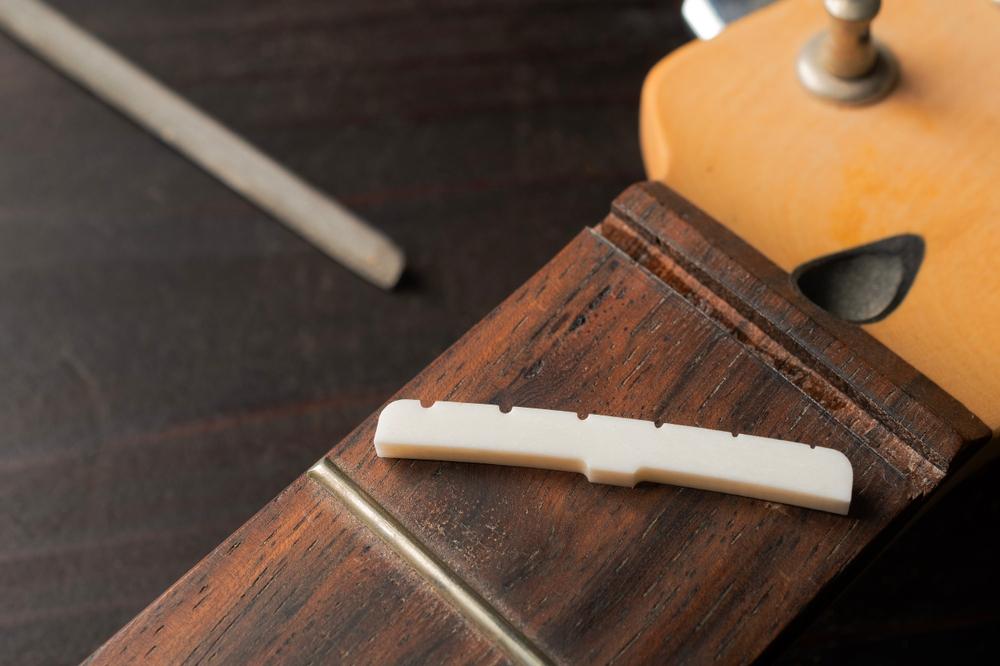 Importance of a Well-Maintained Nut and Saddle
The nut and saddle are critical components of a guitar's setup, directly influencing playability and tone.
A well-maintained nut ensures proper string spacing and height, contributing to accurate intonation and comfortable playing.
The saddle, located on the bridge, affects action and tone. Regular care ensures optimal contact with the strings for maximum resonance.
How to Clean and Lubricate the Nut
Remove Old Strings: Loosen the strings and remove them from the nut slots, providing access for cleaning.
Use a Soft Brush: Gently brush away dust and debris from the nut slots using a small, soft brush.
Apply Lubricant: Use a specialized nut lubricant or a small amount of graphite (pencil lead) to lubricate the nut slots. This reduces friction, preventing tuning issues and string binding.
Adjusting the Saddle for Optimal Playability
Saddle Height: To adjust the saddle height, remove the strings and sand the bottom of the saddle lightly. Make incremental adjustments until the desired action is achieved.
Saddle Angle: Some acoustic guitars have compensated saddles with a slight angle. Ensure the correct orientation when making adjustments.
Humidity and Temperature Considerations
Impact of Environmental Factors on Guitars
Fluctuations in humidity and temperature can lead to issues such as neck warping, fret sprout, and changes in action and intonation.
Low humidity can cause the wood to dry out and shrink, while high humidity can lead to swelling and damage.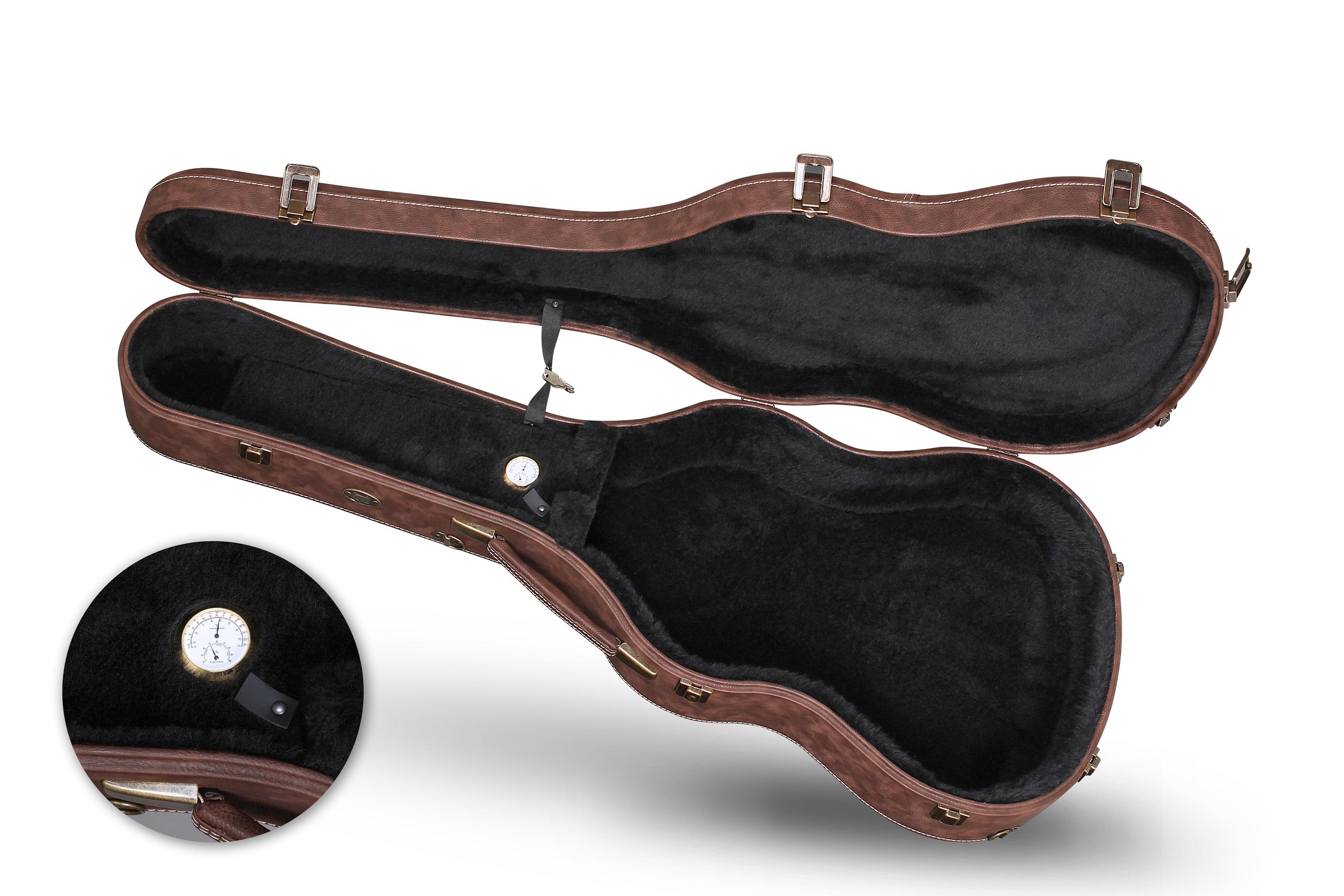 Tips for Storing Guitars in Varying Conditions
Use a Humidity Monitor: Place a hygrometer in your guitar case to monitor humidity levels.

Store in a Controlled Environment: Keep your guitar in a room with a consistent temperature and humidity level.

Avoid Extreme Conditions: Store guitars away from direct sunlight, radiators, air conditioning units, and drafts.
Using Humidifiers and Dehumidifiers
Humidifiers: In dry climates, use guitar humidifiers to maintain adequate humidity levels. Place the humidifier in the guitar case or inside the instrument.

Dehumidifiers: In humid environments, use dehumidifiers to reduce moisture levels. Store your guitar in a controlled environment to prevent damage
Electronics and Hardware Checks
Importance of Checking Electronics Regularly
Regular checks ensure that your guitar's electronics function properly, avoiding issues such as crackling or loss of signal.

Malfunctioning electronics can impact the overall sound quality and versatility of your instrument.
Cleaning and Maintaining Pickups and Controls
Use Contact Cleaner: Apply contact cleaner to the potentiometers (pots) and switches to remove dust and debris.

Check Wiring: Inspect the wiring for any loose connections or frayed wires. Repair or replace as needed.

Clean Pickups: Gently clean the pickups with a soft cloth. Avoid using abrasive materials that could damage the pickup magnets.
Tightening Loose Hardware
Periodically check and tighten any loose hardware, including nuts, bolts, and screws.

Loose hardware can affect the guitar's playability and tone. Use the appropriate tools to tighten any components that may have come loose.
Regular attention to these aspects of guitar maintenance ensures that your instrument remains in top condition, both in terms of playability and sound quality. By incorporating these practices into your routine, you'll not only extend the life of your guitar but also enhance your overall playing experience.
"In conclusion, maintaining your guitar is essential for preserving its longevity, playability, and overall sound quality" Regular maintenance is not just a chore; it's an investment in the longevity and performance of your guitar. By incorporating these maintenance practices into your routine, you'll not only extend the life of your instrument but also enjoy a consistently excellent playing experience. Remember that a well-maintained guitar is more than just a piece of gear; it's a companion that resonates with your passion and creativity. So, embrace the process of caring for your guitar. Whether you're a beginner or a seasoned player, the rewards of a well-maintained instrument are worth the time and effort. Your guitar will thank you with a beautiful sound and reliable performance for years to come. Happy playing!