Browse Through The Huge Collection of Portable Keyboards for Beginners
Nowadays keyboards are found at every home, it's the best equipment for kids to start their musical journey, chances are that you might agree with us that's why you found your way here. A portable keyboard is the first instrument for many beginners. And also learning to play a keyboard can make learning other instruments very simpler. Playing the keyboard is the perfect way to develop your hearing skills as keyboards maintain a perfect pitch and the keyboard doesn't require tuning.

You are at the right place if you are looking to buy your first keyboard. Bajaao has a huge range of bestselling products from the most trusted brands worldwide. Whether you're a beginner or a serious virtuoso, a portable keyboard can give you the tools you need to hone your craft in your music room, on the road, and anywhere in between. Below we have listed the best-selling beginner keyboard for that are well suited for new players.
The PSR-I500 is the ideal portable keyboard for Indian music lovers. A vast collection of onboard Indian instruments (Voices) and auto-accompaniment function (Styles) covers a broad spectrum of Indian music genres from every corner of the country. In addition, the PSR-I500 features a number of lesson functions including a built-in Tabla/Mridangam & Tanpura function called "Riyaz," to help you learn how to play songs or traditional Indian "Raga" scales.
Features:
The ideal keyboard for Indian music lovers, for both performance and learning.
801 instruments, including 40 Indian instruments.
282 types of auto accompaniment Styles, including 50 Indian Styles.
Riyaz (Tabla/Mridangam & Tanpura) function with 30 Taals
Quick Sampling function (Normal/One shot/Loop)
Powerful amplifiers with bass reflex speakers
Professional-quality DSP Effects
Pitch bend wheel
Lesson function
YAMAHA PSR - E463
PSR-E463 is the best entry keyboard for performing various styles of music, from the latest to vinyl favourites. It has a 61-key touch response keyboard with powerful on-board speakers and easy-to-use professional features like assignable Live Control knobs, Quick Sampling, Groove Creator and USB Audio Recorder.
758 high-quality voices including Live!, Sweet! and Cool! voices, with 48-note polyphony
Quick Sampling function - 5 sample (1 Normal type + 4 One shot/Loop type) Max 9.6 sec/sample
Groove Creator function - 35 grooves, 5 sections(4 main +1 Musical Climax)
235 auto accompaniment Styles
USB Audio Recorder - 80 minutes. (.wav)
Assignable real-time Control Knobs, DSP Effects, and Pitch Bend
AUX IN for connecting and playing along with your favourite music
Arpeggio function
YAMAHA PSR - E363
Versatile functions and an expressive touch-sensitive keyboard action make the PSR-E363 the go-to instrument for beginning players.
Touch-responsive keyboard with 48-note polyphony
574 high-quality Voices with improved sampling
Brand new Reverb effects and Master EQ
165 auto accompaniment Styles
150 different Arpeggio types
"Keys to Success" with other lesson functions
Duo Mode
Easy Song Book available for download
USB TO HOST allowing two-way MIDI and audio transfer
AUX IN terminal & Melody Suppressor
YAMAHA PSR-E263
61-key, entry-level Portable Keyboard featuring a wide variety of sounds and functions the PSR-E263 is an ideal first keyboard for aspiring musicians who are just starting out.
400 high-quality Voices, 130 auto accompaniment Styles
112 Songs, easy Song Book (available via web download)
Nine-step lesson function (Yamaha Education Suite)
Recording function.
AUX IN jack for connecting an external audio source
Master EQ / Ultra Wide Stereo
Duo Mode
Compact and portable design
Battery operation (AAx6)
YAMAHA PSR F51
The PSR-F51's compact and lightweight design packs in a regular size keyboard together with 120 Voices and 114 Rhythms from all over the world. What's more, this instrument is ideally suited to a wide range of different playing scenarios; not only is the PSR-F51 great for beginners and students, you can also power it with batteries for musical performance *on the road.*
120 different Voices, 114 rhythm styles 
Metronome and Duo Mode Perfect for Practice 
Realistic Sound of Acoustic and Electric Instruments 
Extremely Lightweight and Portable 
Also can power it with 6 AA batteries for outdoor musical performance
Headphones output jack
CASIO CT-X9000iN
The CT-X Series comes with the AiX Sound Source, which can produce a wide range of sound qualities from powerful bass tones to clear high tones. The exceptional computing power of the high-performance LSI reproduces the natural charm of acoustic instrument sounds, such as the agreeable change in tone when a piano key is struck, the sensation of a drum performance, or soaring strings. Dynamic tone changes also give its electronic sound exceptional expressiveness.

800 Tones ( 43 Indian & 57 SFX)
250 Rhythms ( 39 Indian)
AiX Sound Source
Touch Response
64 Polyphony
Tone Editor ( 100 Users)
Rhythm Editor & Sequencer ( 100 user Rhythms)
8 Pads X 16 Sets : Registration Banks
Dedicated button for Grade Examination Tones and Rhythms
Pen-drive connectivity with .wave file playback
Assignable Modulation Button
CASIO CT-X8000 IN
They keyboard also has a full range of editing functions, such as: an easy edit function to create your own rhythm from a built-in one; a real-time recording function for directly entering and saving rhythms; or mixer settings for controlling the balance of each track or effect levels.

61 keys with Touch Response, 64 Polyphony
800 Tones (43 Indian) and 250 Rhythms (39 Indian)
High Output Amplifiers and High Performance Bass Reflex Speakers
Accompaniment For the Latest Music Scenes
Extensive Registration Functionality Lets You Save Your Favorite Settings
Record Phrases and Play Back with Phrase Pads
WAV Audio Data Playback
ROLAND GO-61KL
If you're looking for a fun and inspiring way to start playing music, Roland's GO: KEYS is the answer! With its innovative Loop Mix function, anyone can build fully produced songs right away, even with no previous music experience. Compact and battery-powered, GO: KEYS lets you enjoy the magic of musical creativity everywhere you go.
Fun and inspiring keyboard for beginning musicians
Loop Mix allows you to build songs by simply playing notes on the keyboard
Manipulate the sounds of your loops with intuitive one-touch control
Over 500 pro-quality sounds: pianos, synths, strings, bass, brass, and more
Built-in song recorder with USB backup
Play anytime with built-in speakers or headphones
Lightweight, travel-ready, and runs on batteries
Compatible with ScratchX for creating interactive stories, games, and animations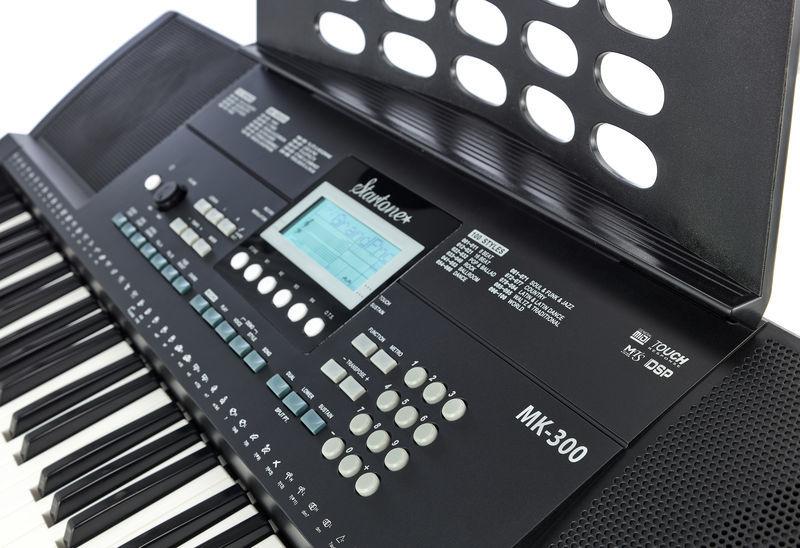 STARTONE MK-200
With 320 playable sounds and virtual instruments, the Startone MK-200 offers a stately variety. MK-200 makes the best portable for beginners.
61 Velocity-sensitive keys
32 Voice polyphony
320 Voices, 110 Styles, 100 Songs and100 Demo songs
Metronome
Record & playback
Transpose
Modulation on/ off
Battery operation possible
USB to host
YAMAHA PSS-30
The Yamaha PSS-30 Remie is the ideal entry point for kids into the world of keyboards with its 37 touch-sensitive mini-keys. It makes your child familiar with the most common functions. The songs integrated into the PSS-E30 Remie give you a lot of pleasure while listening. A quiz mode plays sound effects and asks which notes to play. In advanced mode, this is extended by intervals and thus trains the ear. With a weight of 1.2 kg and the ability to operate the keyboard with batteries, it is the ideal companion for travelling or leisure.

37 mini keys
47 sounds
74 sound effects
Quiz Clothing
28 Styles and Smart Chord feature
30 songs
Built-in speaker / headphone jack
Battery and USB bus power supply
CASIO MA150
Compact and Portable, yet packed with a rich selection of high-quality tones and rhythms. An easy-to-play keyboard with 49Keys for ease & simplicity. A wide selection of musical instrument tones supports play of songs from various genres.

49 Mini size keys
50 Tones, 30 Rhythms
50 Song Bank Tunes
MIDI
Lesson Function
Color: Silver
8 Note Polyphony (max.)
5 Drum Pads
Headphones / Output