YAMAHA F310
Bright and responsive tones with outstanding playing experience
The F310 offers the same focus on quality, design and sound as all Yamaha acoustics and puts it in an incredibly affordable package.
Design/Architecture Detail
Body Depth 96-116 mm (3 3/4"-4 9/16")
Finger Board Width (Nut/Body) 43 mm (1 11/16")
Material
Top Spruce
Back Meranti
Side/Rib Meranti
Neck Nato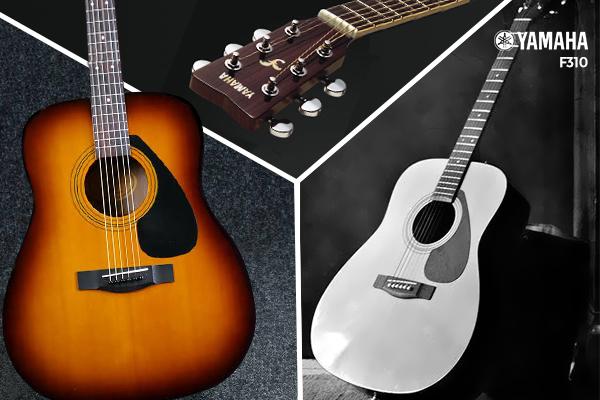 IBANEZ MD 39C
Built with excellent craftsmanship and functionality by Ibanez at an affordable price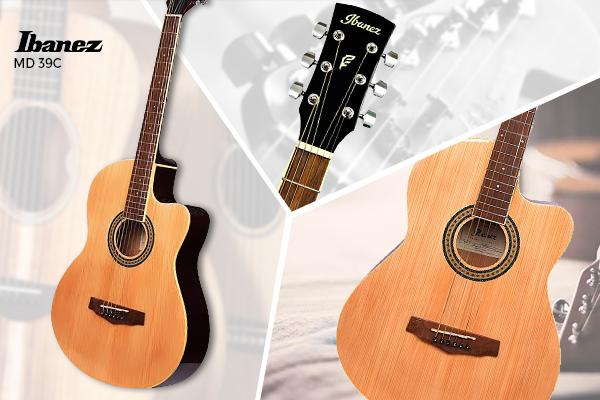 Made exclusively for India the MD39C gives you good build quality, quality parts and amazing sound. MD39C Cutaway Acoustic Guitar is built with excellent craftsmanship and functionality expected from a brand like Ibanez yet affordable.
Specifications:
Type - Acoustic Guitar with cutaway
Model - MD39C
Fret with truss rod
Top - Spruce
Back & Sides - Nato
FENDER SA 135C
High-quality affordable dreadnought with great tone and excellent playability
The Fender FA-135C is built on the concert-style platform for a sleek, modern design. Lightweight body to avoid strain to your neck during long usage. It has a striking appearance as beautiful as it sounds.
Specifications:
Series: SA Series
Body Shape: Concert

Fingerboard Material: Stained Hardwood



Bracing: Scalloped X
Rosette: Concentric Rings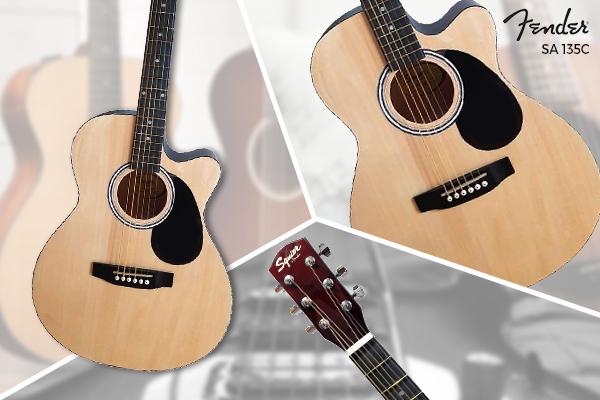 VAULT EA-40
An ideal pick for passionate beginners and music professionals alike
Vault premium cutaway acoustic guitars are built keeping the best functionality and craftsmanship in mind. This guitar is an ideal pick for passionate beginners and music aficionados alike. This Zebrawood coloured acoustic guitar will literally blow you away.
Specifications:
Acoustic Steel String Guitar
Type - Cutaway
Top - Zebrawood
Back - Zebrawood
Sides - Zebrawood
Fret Board - Rosewood
CORT AD810
Crafted to provide a traditional feel and modern sound
Enchant your audience by playing classics of the 1960s on the Cort AD810 Dreadnought Acoustic Guitar. This instrument has been designed to meet the requirements of hobbyists and seasoned guitarists alike. Whether in the studio or on the stage, this guitar delivers a phenomenal performance, thus motivating you to put your heart and soul into your craft.
Specifications:
Body Top: Spruce Top Back and Sides: Mahogany
Body Shape: Dreadnought
Bracing: Advanced X-Bracing
Construction: Dovetail Neck Joint

Scooped rosewood bridge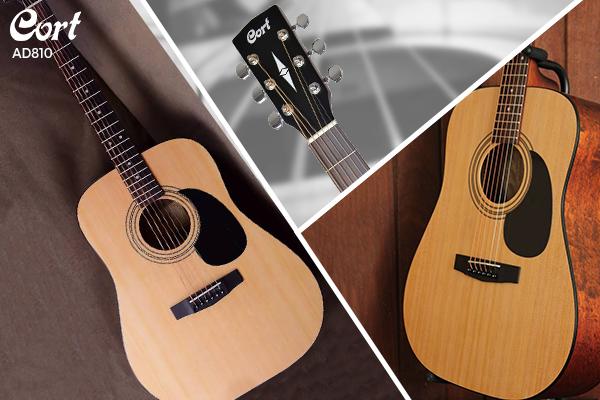 FENDER SA 150
Dynamic playability with amazing sound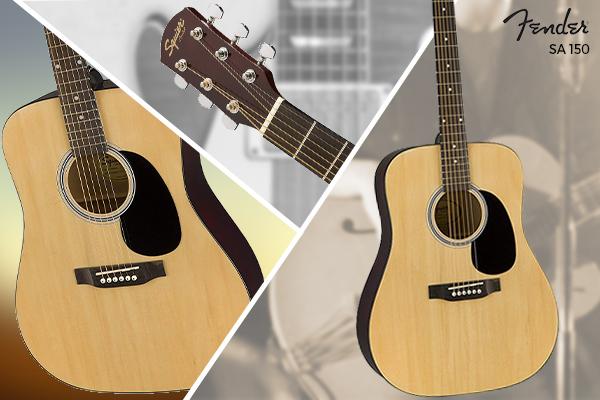 The Fender Squier SA-150 is a full-size steel-string acoustic that allows big sound at a little price. With its slim, easy-to-play neck and full-bodied dreadnought tone, the SA-150 is an excellent choice for all rookie strummers.
Specifications:
Body Shape: Cutaway
Body Top: Laminated Lindenwood
Back and Sides: Laminated Mahogany
Stained Maple, 12" (305 mm) - Dreadnought
Fingerboard: Stained Hardwood 12" (305mm) - Cutaway
ASHTON D10-CEQ
Melodious guitar with both acoustic and electric features
Ashton D10CEQ has 4 bands EQ and tuner is a melodious guitar supporting both the acoustic and electric guitar features. Its unique design provide deep and flat sounds. This is helpful for beginners who wish to perform as well and make use of its pickups to amplify the sound.
Specifications:
Top: Spruce
Back & Sides: Bass Wood
Finger Board: Smart Wood
Machine Head: Full Die Cast
EQ System: Ashton 4-Band EQ & Tuner
VAULT TRAVELLER
Small size, big sound. An ideal travel guitar for everyone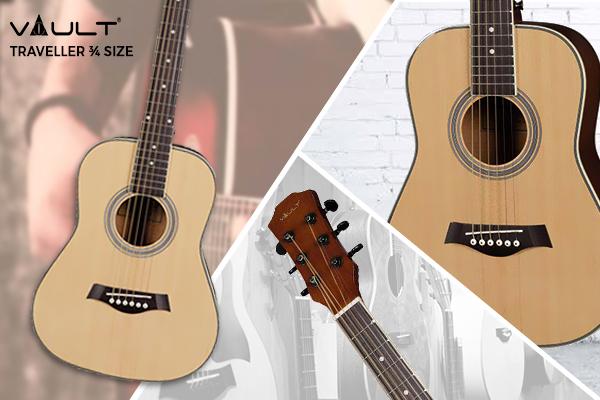 Do not be fooled by the small size of this guitar by Vault. It gives out a very good and clear low end along with crisp highs and overtones, making it the perfect travelling partner. The Traveller guitar by Vault will give you the best of both worlds.
Specifications:
Size: 34" Steel stringed
Body shape: Dreadnought (Full-bodied)
Top Material: Spruce
Back & Sides Material: Basswood
Neck Material: Mahogany
Fretboard: Rosewood
PLUTO HW 41-201
Equipped with brilliant features to give you an extraordinary playing experience
Pluto guitars are simply amazing. Pluto HW21-201 is truly a masterpiece for beginners with bright sound as good as the high-end guitars in a similar range.
Specifications:
Type: Cutaway 
Body: Agathis Body
Neck: Beech 
Bridge: Rosewood 
Finger Board: Rosewood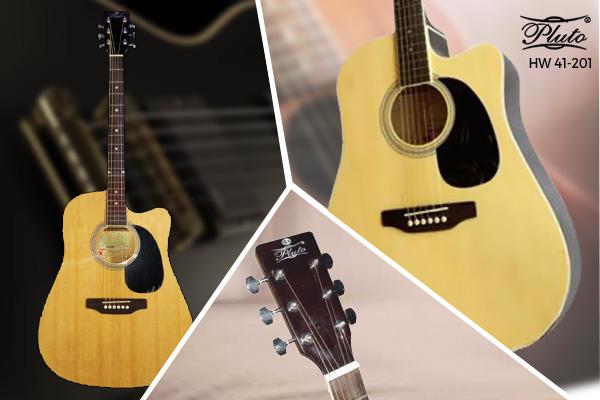 HENRIX 38C
Superb performance and value for money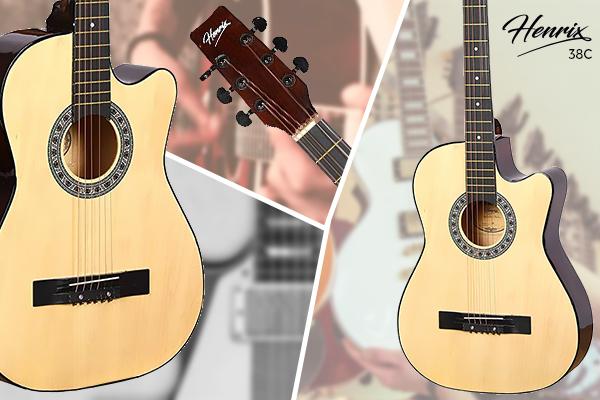 Henrix 38C comes with a dual-action truss rod which gives you the liberty to adjust the action of your neck in either direction if warped. This is a more advanced design and is used by modern luthiers over the vintage single truss rod. This extends your guitars life by making it more resilient to climate changes.
Specifications:
Type - Cutaway
Top - Basswood
Back/Sides - Basswood
Fretboard - Rosewood
Body Type: Cutaway & Regular