Whether you are a solo musician, DJ/ Producer who has just started his journey or a seasoned professional, we've got some of the best-handpicked gear for you! Recording Bundles, Midi keyboards, Groove Production, DJ controllers and some of the world's best selling Audio Interfaces from top brands like Native Instruments, Vault, M-Audio, Arturia, Focusrite, Nektar, Presonus and many more.  And a special mention about the Behringer Home Creation bundles and Audio Technica Bundles to make your home recordings a unique experience.

If you need any expert advice choosing the perfect gear for your Home Studio or DJing needs or if you need assistance with 0% EMI for Credit Cards/ Bajaj Finserv Card you can always consult our gear specialists on +91-22- 42035353 (Mon-Sat, 9 AM to 9 PM)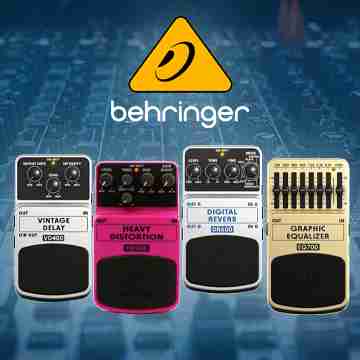 Behringer Home Creation Pedal Bundle with Guitar, Delay, Limiter & Equalizer Effects Pedal
The Behringer Pedals are a must for any professional audio setup. With this digital reverb, Delay and Distortion you can add cool ambient effects that takes your musical performance to the next level.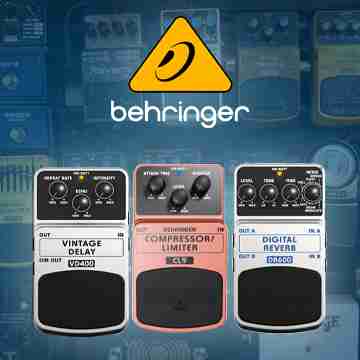 Behringer Home Creation Pedal Bundle with Delay, Limiter and Reverb Effects Pedal
It is designed by keeping the needs of today's musicians and sound engineers in mind. The Behringer DR600 Digital Reverb becomes a useful tool when you need to give your audience a unique experience.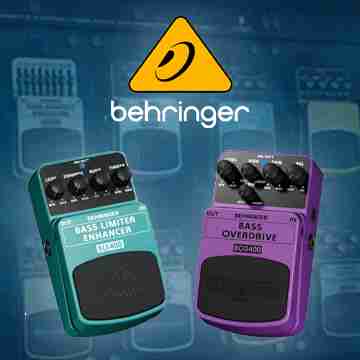 Behringer Home Creation Pedal Bundle with Limiter Enhancer & Bass Overdrive
The Bass Pedals gives your playing that same velvety finishing touch by smoothing out inconsistent volume peaks. This is especially noticeable if your performance involves slapping and popping styles.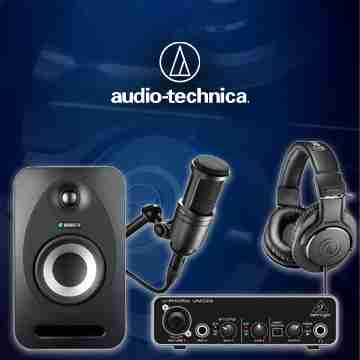 Audio-Technica Home Creation Bundle with Condenser Mic, Audio Interface, Headphones & Monitor Speaker
Audio Technica gears are constructed in such a way that it performs exceptionally well in high-pressure environments.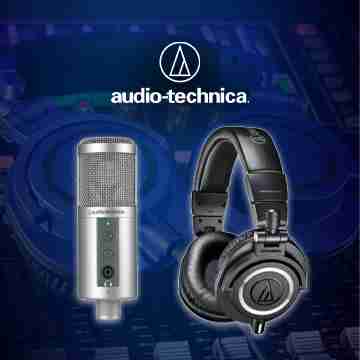 Audio-Technica Home Creation Bundle with ATR2500-USB Condenser Microphone & M50X Monitor Headphone

Audio-Technica ATR2500-USB Cardioid Microphone and MX50 Headphones are ideal for podcasting, Home Studio Recording, Field Recordings, and Voice-Overs.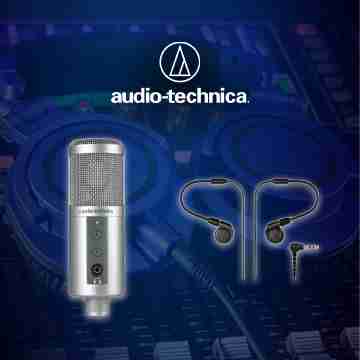 Audio-Technica Home Creation Bundle with ATR2500-USB Condenser Microphone & ATH E40 Monitor Headphone

This large-diaphragm side-address condenser offers a USB output for recording to your computer, a quality analog-to-digital converter for excellent fidelity, and a headphone output with level control for monitoring with no audible delay.
Nektar SE-49 - Ultimate beginner MIDI keyboard
The Nektar SE49 is a high-quality 49-key MIDI keyboard controller for your studio and production. It has all the Nektar's high-end features for an affordable price!
Native Instruments Komplete Kontrol
The NI Komplete Kontrol Keyboards combine powerful software with intuitive hardware. 
Special Offer:
All Komplete keyboards ship with the

Komplete 11 package worth Rs.62,000 absolutely free!

A mammoth soundbank full of quality sounds.
Arturia Keylab Essentials
KeyLab Essential lets you play and create music instinctively.  Arturia's own Analog Lab 3 gives you instant access to over 6,500 legendary synths from its, award-winning V Collection! It also comes fully loaded with Ableton Live Lite.
M-Audio Midi Keyboards

M-Audio breathes new life into your music with their latest Oxygen USB MIDI controllers. Easy to navigate, assignable controls automatically map to your favorite DAW. Oxygen series keyboards are also fully compatible with iOS, so they're perfect for your grab-and-go synth rig. 
Novation Launchkey & Impulse Keyboards
Launchkey is the easy-to-use MIDI keyboard controller. It's pretty much the quickest and easiest way to produce and perform electronic music, especially in Ableton Live! Impulse is the ultra-responsive and expressive keyboard with loads of fully assignable controls.

Nektar Impact MIDI Keyboards
The Impact series controllers are jam-packed with intelligent and expressive performance control not even available on many premium products. Ever wanted a controller that hooks up automatically to your DAW? Nektar does exactly that with its deep integration for every DAW.

JBL Studio Monitors    
Trusted by studio engineers around the world, JBL studio monitors are meticulously built to deliver the most accurate and precise sound that professionals demand. 
Presonus Eris Series
Presonus Eris series monitors deliver a smooth and accurate frequency response, powerful Class AB amplification with loads of headroom, and a suite of acoustic tuning controls to mitigate room anomalies. 
KRK Rokit (3rd gen)
For a quarter of a century KRK have been the professional's choice for mixing and mastering hit records around the globe. KRK's ROKIT studio monitors have been the most popular choice for accurate monitoring, selling over one million units.

Vault Studio Monitors    
Vault focuses on the functional goal of delivering pure, original sound without any additional colouration regardless of the genre of music you listen to. With the direct to customer pricing, it sets a whole new affordable standard in studio monitoring market. 
Sonodyne PM series Studio Monitors    
The PM Series delivers exceptional performance at an unbelievable value. The PM is all about power and detail. Whether you are ideating, recording, or editing, the PM is an excellent production monitor. 

M-Audio is one of the most revered names in music computer interface and studio integration solutions. The AV series and BX series active monitors provide accurate monitoring that's pleasant to listen to at a great price. You get an ultra-solid bass response, an accurate midrange, and smooth, extended high frequencies.
Hercules DJ Controllers   
Hercules is one of the leaders in mobile DJ controllers for PC/Mac! It is the ideal choice for anyone with an instinct for mixing, and for everyone dreaming of getting behind the decks to host great parties with their own music and setting the dance floor on fire.

Numark DJ Controllers
Numark empowers DJs with revolutionary products that seamlessly combine classic feel with cutting-edge performance capability. Over its 40-year history, Numark has been responsible for introducing hundreds of industry firsts.
Native Instruments
DJ Controllers Cutting-edge pro DJ tools, built on the industry-leading DJ software: All-in-one DJ systems, DJ controllers, scratch systems, and more. Pro features, instant usability, and go-anywhere portability – fused in perfect harmony.
Native Instruments Maschine    
Fast, intuitive, and fun way to create and perform tracks and beats. MASCHINE lets you effortlessly produce beats, melodies, and harmonies with powerful drum synths, premium sounds, an integrated sampler, and more – cutting-edge software meets intuitive hardware for ultra-smooth workflow.
Ableton Push 2
Push 2 is equally at home in the studio or on stage. Keep your performances in-the-moment by switching between improvising with loops and playing drums, notes, and chords—all from the same expressive grid of pads. 
Ships Free with complete Ableton Live 10 Software!
Novation Launchpad
The Novation Lauchpad MK2 is everything you need to start making music. It has 64 RGB pads that allows immediate integration with Ableton Live. The RGB LED pads match your clips allowing for a more creative and natural workflow. Launch clips, create entire songs, start and end loops, arm tracks, control volumes, pans and send.

Audient Audio Interfaces

 Get professional quality recordings from the start and take your track to the next level with Audient! High-quality A-to-D converters offering exceptional dynamic range up to 126dB & harmonically rich JFET D.I input is what makes Audient one of the best audio interfaces in the world.
Focusrite Scarlett Audio Interfaces
Focusrite Scarlett is the best-selling USB audio interface range in the world, and for good reason. It focuses on just three things; achieving the best sound, the fastest speed, and the easiest music-making experience. It is compact yet versatile, with Scarlett mic preamps, super-low latency, class-leading sound quality and digital conversion. 

Presonus Audio Interfaces 
Presonus has been making recording interfaces for a long time. From the top-of-the-line Quantum family to the AudioBox series, Presonus prioritizes sound quality, ease-of-use, and construction quality. Whether you use Mac®, Windows®, or iOS®, you will an interface that fits your application and budget. The MIDI out feature and iPad compatibility is a feature that stands out with Presonus.